Buyer's Guide
Job Size and Type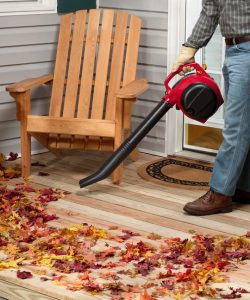 How and where you will use the blower? To remove leaves from your yard? To clear debris and clippings from your driveway? To blow leaves off the roof or out of the gutters?
With variable speeds and power levels, most blowers can tackle all of these jobs. Some blowers can perform more detailed tasks like cleaning small spaces or drying the car.
Or you could even…
Crank up the power for bigger jobs, like pushing leaves across the lawn.
Weight
Save your back and arms by choosing a blower light enough to use easily. You'll need to carry around the blower long enough to finish the job.
Also…
Smaller blowers are more maneuverable. That's a big consideration for a lot of people.
Eco-friendliness
The biggest complaints about leaf blowers are noise and air pollution. Since almost all of the reviewed models don't use gas, most are emissions-free. If you use a cordless leaf blower that uses a rechargeable battery, be sure to dispose of it responsibly.
Price
Price depends on a cordless leaf blower's power, size, versatility, "green-ness" and brand. Our reviews below will help you weigh all of these factors against the sticker price and your budget.
Time For A Yard Makeover With A Cordless Leaf Blower
When choosing the best cordless leaf blower, you'll want to weigh the features (power, size, etc.) against the cost to find the best value for you.
Whether you putter around the yard or are a budding landscape artist, be sure to check the model's features to find the most useful tool for you.
And, on that note, here are two top place finishers we know you'll be blown away by.