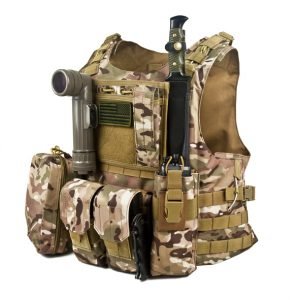 Across all fields, professionals understand the need to dress for success. Today, the modern day warrior, hunter, and the outdoor player come strapped with body armor by way of plate carriers every time they're in the field. The best plate carriers are crucial in order to perform effectively and, more importantly, to stay safe and alive.
One size doesn't fit all situations.
Plate carriers (or tactical vests) come in different shapes and sizes designed for a variety of uses. For instance, you can find a plate carrier most suited for outdoor games like airsoft, or for more serious and professional activities such as security and law enforcement.
Since this is a very important piece of equipment to anyone who relies on it, we decided to perform a hands-on test of some of the best plate carriers you can buy and the results are in!
Buyer's Guide
How To Choose The Right Plate Carrier
As you can see in the chart above, we loved the UTG 547 Law Enforcement Tactical Vest due to its low price, excellent features, and good quality. However, choosing the best plate carrier for you goes much deeper than this.
There are a lot of variables.
But, mostly, it all depends on how you intend to use it.
If you're a security agent or in the military, your needs will differ greatly from a paintball or airsoft player. Keep that in mind when you're shopping. Ensure you know exactly what you want before you start shopping for a plate carrier.
Buyer's Guide: What To Factor In When Shopping For A Plate Carrier
A lot of people think finding a great plate carrier is as easy as clicking on the first thing you see on eBay or Amazon.
However
There's much more to these wonderful vests and a thoughtful purchase makes for a happy purchase. 
Level of protection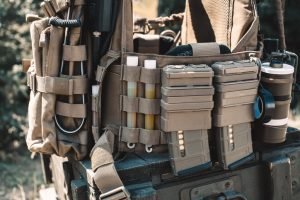 Plate carriers are essential in a lot of situations. For instance, they're mandatory in any tactical situation where the right gear can mean the difference between life and death. These types of vests have to be able to hold ballistic armor plates. They must also make it easy to reach all ammo and accessories while spreading the weight of all loads uniformly for easy movement.
What's more…
Most tactical vests are MOLLE compatible, meaning you can attach additional MOLLE accessories such as pouches, radio pockets, holsters, grenade pockets etc.
Apart from tactical situations, it's smart to wear your plate carrier during target practice or weight training. This is where you get used to its weight and different features. These factors will help in a real situation since the extra weight will make aiming slightly different by putting more pressure on your shoulders and back.
Plate carriers are also popular with hunters and fishermen since they can accommodate more gear, snacks, and water. These vests provide a great advantage when blind hunting or fishing in different spots, since everything you need will be close enough to reach the moment you mark your target.
Lastly,
Fans of paintball or airsoft can also find plate carriers very useful by choosing the correct one for their competitions and matches. These games have become more competitive over the years, and the right equipment certainly makes a difference between the winners and losers.
Type of vest
Plate carriers come in different types, each designed to perform better in some conditions than others. Depending on what you want to achieve with your vest, there are a few things you need to be on the lookout for.
For starters,
There are two main types of tactical vests: multifunctional vests and plate carriers.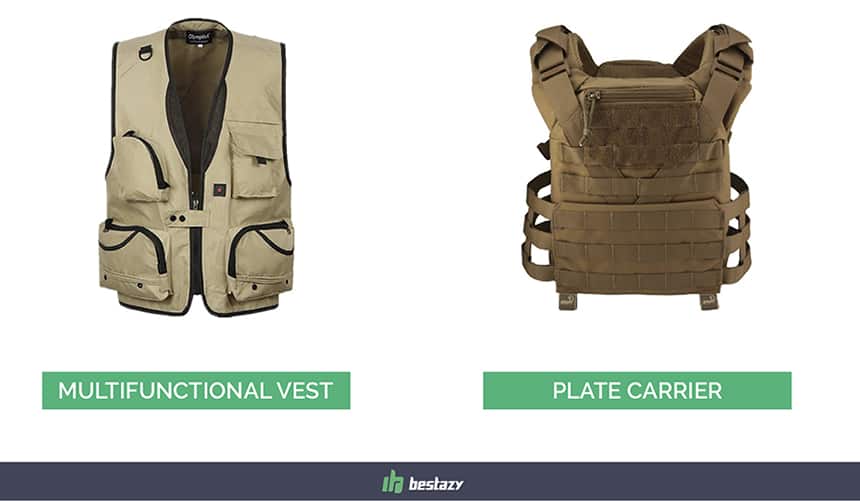 Multifunctional vest
This vest type comes with multiple pockets and accessories to maximize storing capacity. Most feature pockets for rifle and pistol magazines, a medical pouch, a special radio pouch, and space for other accessories.
Most models are also fitted with a detachable pistol holster to allow for easy adjustment. These vests make it easy to carry anything you might need in a tactical situation.
They can also be adjusted both in length and girth to fit different body sizes using multiple straps usually on the sides and shoulders.
However,
These vests do not offer ballistic protection and cannot accommodate rifle plates. The internal pockets and pouches can only store documents or a hydration bladder on the back. 
Plate carriers
These types of vests are designed to protect you in case of an armed exchange. On their own, the vests do not offer any kind of ballistic protection. However, they can accommodate plates in the back and front, hence their name.
They can also be adjusted to fit over your usual gear using straps. Unlike the multifunctional models, these typically do not include many pockets for your accessories. Nonetheless, most models are MOLLE compatible meaning you can add as many pouches, pockets, holsters, and other accessories as you wish from the MOLLE catalog. 
Materials used
Tactical vests are produced using a wide range of materials, the most common being nylon mesh, PVC, and rubber. The nylon mesh is normally used to provide the structure on which the vest is built on because it's lightweight and durable. The nylon mesh also helps to keep you cooler since this outfit is meant to be worn over regular gear, whether a T-shirt or a winter jacket.
PVC is placed over the nylon mesh to resist tear and strain since it can take a lot on a lot of weight. This makes it one of the best materials for holding various pockets, pouches, and holsters without tearing.
Even when they're fully loaded with ammunition.
Some producers include rubber surfaces to lower or control the recoil impact on the shooter and to avoid the vest from sliding against the fabric. You will mostly find these on the shoulders.
Ease of adjustment
A lot of people have different preferences on where they want their gear and accessories to be located based on their strong/weak hand or other factors. Having a highly adjustable vest is a big plus and should be an important factor, especially if you're left-handed.
A Close Look At The Best Plate Carriers For Different Tactical Situations