Buyer's Guide For Choosing The Best Crossbow Scope
Why do you need the greatest crossbow scope you can find?
Whether you're aiming at a fixed or moving target, when a scope magnifies the target well, making the perfect shot will be a lot easier.
With a high-quality scope, you will be able to hit the targets from further away, enhancing your shooting experience.
For boosting your self-esteem
It's very frustrating when you're constantly missing the target, or having trouble making a good shot. With a solid scope on your crossbow, you will improve your score and feel better about your shooting abilities.
There are still so many people who think having a high-quality crossbow scope is not necessary.
They think their "eagle eye" is enough for making an accurate shot.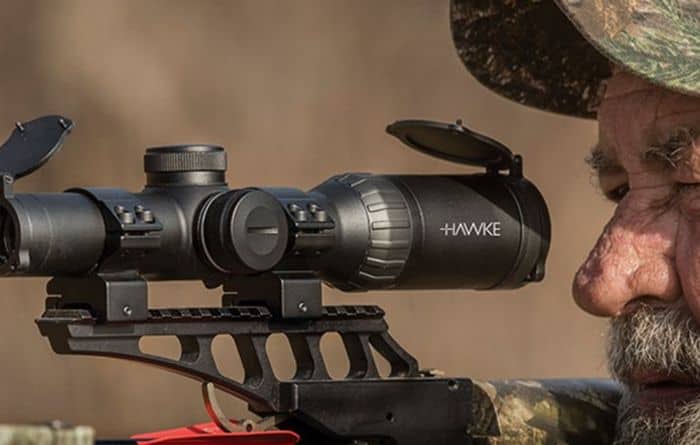 Well…they're wrong, let me tell you.
When you mount a scope on your crossbow, your accuracy will be significantly improved.
But let's start from the beginning.
What makes a high-quality crossbow scope?
The scope must enable you to see the target clearly, which is why magnification is one of the key features on a scope.
It's actually quite simple to know the magnification power of your desired scope.
Just look at the specification and you will see something like "4X32mm", or numbers arranged in a similar way.
The number preceding the "X" is the magnification power. In this case, the scope can magnify the target four times.
The number after the "X" denotes the size of the lens (on the far end of the crossbow scope).
So, this scope would be 32mm in diameter, with the magnification power of four times.
And here's some more numbers for you ☺
Oftentimes, you can see something like this: 20-40X80mm.
It means the scope's magnification power is not fixed (so-called "zoom scopes").
On a fixed scope, you can't change the magnification, but zoom scopes allow this change.
Mind you, the "mm" is often missing on the specification, but don't let that confuse you.
If you see something like "4X32", it still means the "32" refers to millimeters, because that's the standard measurement unit for the scope lens.
In addition to this, there is the field of view (FOV) aspect.
Our "normal" field of view (or field of vision, as some call it) is around 210 degrees horizontally.
But obviously, if you decide to magnify an object (in this case, your target), your FOV will become smaller.
So, what to do about it?
Usually, the scope's FOV is written in the specification, and you can use it to calculate the exact difference.
Then there's the eye relief, also a very important feature.
Eye relief is there to tell you how close your eye must be for a FOV.
Usually, the more powerful crossbow scope will have shorter eye relief (and vice versa).
Many crossbow scopes usually have a four-inch eye relief, which means your eye can be up four inches away from the scope without losing visibility.
It's especially important that you know the eye relief on your scope if you're wearing glasses.
The glasses prevent your eyes from getting close to the scope, so be sure to count that in when making the final choice.
The more light your scope gathers, the better it will perform in low visibility.
Also, it will give a clearer image when you apply higher zoom on it.
Your scope's light gathering power is limited by its size.
The lens on a crossbow scope cannot be too big because of the physical restraints. If the lens is too big, the scope will be positioned too far from the crossbow body, making is practically useless.
The exit pupil is the size (or better say, the diameter) of the circle of light that  enters the eye once it leaves the scope.
It's very important for the exit pupil to be the right size. If it's too small, it won't allow enough light into the iris. Thus, the image given will be dim.
On the other hand, if the exit pupil is too big, a lot of valuable light will be wasted.
That's why it's important to make sure the exit pupil is the right size for you.
This is one of those things you need to pay extra attention to.
Basically, parallax is an optical illusion. The object you watch through your scope might not appear the same every time, and this is something to definitely have in mind.
For example, this can often happen when you want to make a quick shot.
If you don't position your aiming eye against the scope properly, the angle you look at may be slightly different.
After all, it's very hard to get the same angle twice without taking some time to do it.
Usually, there is a distance up to which a scope doesn't experience parallax. It should be in the product specifications, however.
Anyway, it's important to be aware of parallax and know it can affect your aim.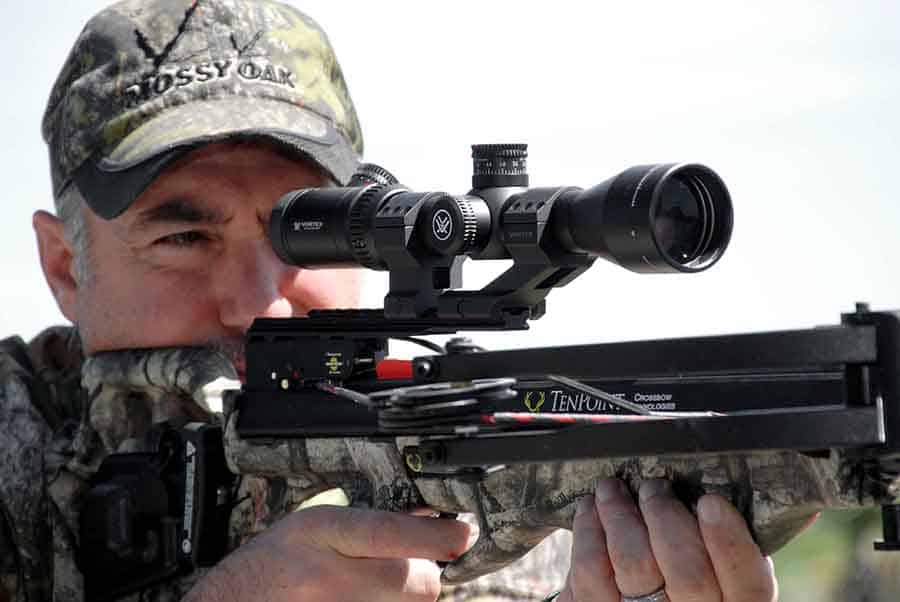 Mounting Rings and Tube Size
The tube size of your scope tells you the type of rings you need for mounting the scope.
The rings help keep the scope firmly in place, and they can be made for different kinds of rails (weaver, picatinny, or dovetail).
It's important you know the type of rail on your crossbow, so you get the right rings.
Many scopes come with the rings included, but there are also those that come as just a plain scope.
The rings come as quick-release rings and screw fitments.
Quick-release rings are very easy to attach or remove because they use a latch.
Screw fitments are a bit more complicated because you (usually) need a hex key to remove them. Screw fitments work much better if there is no need for frequent change of optic.
In order to increase the amount of light the scope light captures, the lenses are coated with special treatments that allow for a better, clearer image.
This coating can also be useful when it comes to fog-proofing. There four types of coated lenses:
coated (on at least one lens surface, with a single layer)
fully coated (on all external surfaces, with a single layer)
multi-coated (on at least one surface, with multiple coating layers)
fully multi-coated (on all surfaces, with multiple coating layers)
And while talking about lens coatings, it's worth mentioning lens caps.
Lens caps come as attached, lanyard and flip-up – and they all serve as protection for the scope lenses.
Basically, a reticle is a series of lines on the scope lens, to help you have a better aim (and measure the distance better).
A crosshair reticle usually has just one vertical line and one (or more) horizontal lines.
There are also reticles with a dot or dash, or a series of dots and dashes, laid out as reference points for aiming.
A reticle can also have multiple reference points.
If this is the case, the reference points are designed in such a way to help you "pick" the right reference at the moment.
Basically…
It all depends on the shooting distance. You first calculate the distance of your target and then pick the reference point for the right aim.
This has proven to be very useful for hunters. They need a range of reference points to choose from, as the target distance varies greatly.
And when the visibility is extremely low, reticles with thick, bold lines are always of great help because they're easier to see.
But, what if that's not enough?
Oftentimes, visibility can be so low even the thickest and boldest of reticles can't help.
This is when you need to use an illuminated scope for your crossbow.
What illuminated scopes do is – they light up the reticle. The lines, dots, and dashes become visible again, in bright green or red.
Some high-end illuminated scopes even offer the option of adjusting the light intensity (or even color intensity) on the reticle.
Depending on the visibility, you can adjust the reticle brightness without it interfering with the target image. It's a win-win.
Why is scope weight an important factor to consider?
Because you need your hunting equipment to be relatively lightweight when going long distances (hiking, for example), but also when you want to shoot during prolonged periods of time.
Usually…
Scopes won't be a big burden to you, because of their small size.
But just so you know, if you have a bigger scope with a large objective – it will be a bit heavier.
However, if you're used to having a scope mounted on your crossbow, this should become an issue.
Many high-end scopes should have additional knobs on the turret, to give you more options.
With the knobs for adjusting elevation and windage, you will be able to perfect your aim and make a much better shot.
The reason you need these adjustments is simple. The further you are from your target, the higher you need to aim – and the more crosswind there is on the hunting ground, the further to one side you need to aim.
The windage knob is placed on the side of the scope, and the elevation knob is on top of the scope.
The knobs are covered with protective caps, so be sure to remove them before handling the knobs.
Mind you…
The knobs are very hard to turn with the fingers, so be sure to use a coin or a screwdriver. Also, you should put the protective caps back as soon as you adjust the knobs.
With each turn of a knob, you should hear a click (this click represents a unit of measurement, in Minutes Of Angle or M.O.A.).
On the majority of crossbow scopes, one click equals 1/4″ adjustment at a distance of one hundred yards.
If your crossbow scope has different values for each click, it should be specified in the instruction manual.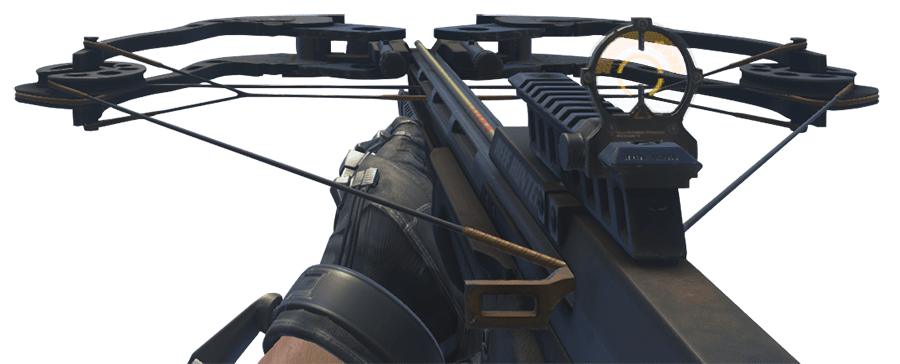 Ask Yourself This Before Buying A Crossbow Scope:
Where will you use the crossbow scope?
You can use the crossbow on a shooting range or in hunting, but this is not the same. If you predominantly use the crossbow on the shooting range, you should probably go with a reticle scope or a red dot scope. However, if you prefer hunting – you should also think about getting a laser scope because it's much better for moving targets.
Is the crossbow scope shockproof,  fog proof, and waterproof?
If you plan to use your crossbow in different weather conditions, it's important to use a high-quality scope, to withstand the weather. If your scope performs well in extreme weather, you will be able to shoot more accurately. Also, you will avoid inconveniences with the scope.
What's the crossbow scope made of?
Depending on the material, a crossbow scope can last from several months to almost ten years. Of course, it's best if the scope you choose is made of a reliable and durable material, such as aluminum alloy. The better the material used, the longer your scope will last.
Once you answer these, you will have a much clearer picture of the type of scope you need. Making the right choice will be much easier.
And now, let's see what we've prepared for you!
Reviews Of The Best Crossbow Scope