You know that awkward time of being "between beds"–either you've ditched an old one or moved and haven't bought a new one yet. Where should you sleep? Instead of a couch, try an air mattress. Learn about the best air mattress for everyday use.
True…
It can't replace a regular mattress, but a sturdy air mattress offers a solution for "bed-less" folks. Air mattresses provide comfortable accommodations for guests, travelers, and people (e.g., students) needing a temporary yet possibly long-term place to crash.
Getting a good night's sleep and waking up pain-free are vital. ? Quality air mattresses are designed and built with that in mind. Read on to discover more.
Before diving in…
…enjoy this peaceful scene of air mattress surfing.?
Research You Can Trust
Don't worry–we rode the waves for you when it came time to investigate air mattresses. After researching over 30 of the most popular air mattresses, we narrowed the list down to these top picks. We consulted industry leaders and customers to choose the ten best air mattresses for everyday use.
We pored through feedback from hundreds of owners in order to learn about their experiences, positive and negative. People of all ages, sizes, and health–from hale and hearty to achy and injured–weighed in candidly about how the air mattresses felt and lasted.
We want to provide informative, objective reviews that are useful for finding the right air mattress that holds up to daily use and promotes restorative sleep.
Let's get started!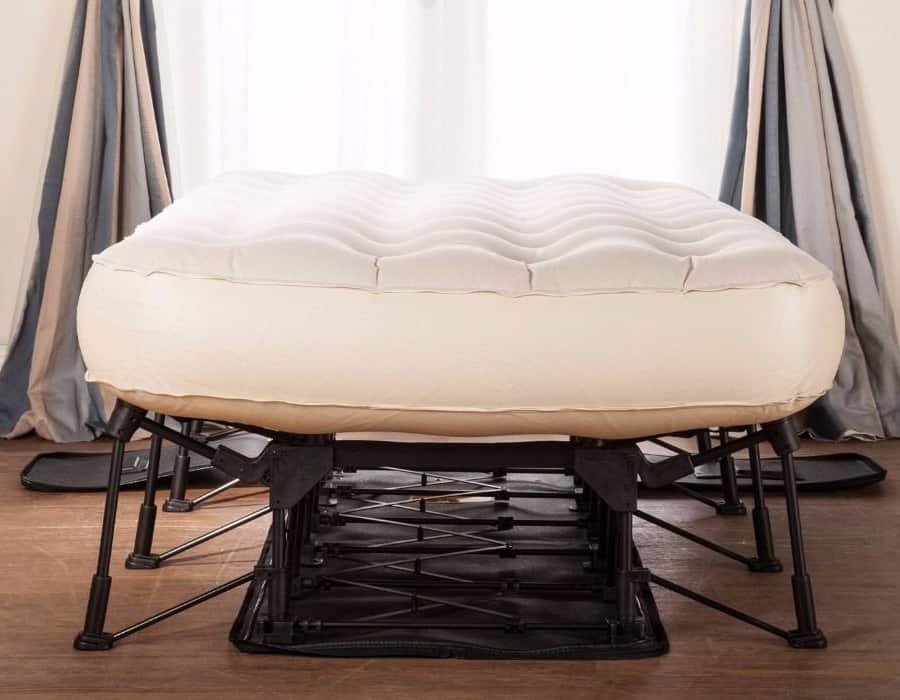 The 30-Second Review
You need a place to crash for at least several nights in a row…or longer. Dozing in a sleeping bag or snoozing on a sofa doesn't sound inviting. If there's no empty bed available, climb onto an air mattress instead.
Ask yourself
How is the mattress' construction? is it comfortable and durable? Does it hold air well and for how long? Does it provide support? How tall is it? Is it large enough for your needs?
What else?
Check out each model's ease of use (inflating deflating, and storing) and style of pump (external or internal; single or dual).
Finally
You won't know if a specific model is right for you until you've slept on it… and more than once ?. To give yourself ample time to test out a model, check its manufacturer's warranty and return policies.
Buyer's Guide
Buyer's Guide to Air Mattresses for Everyday Use
In theory, air mattresses aren't designed for everyday–or nightly–use. In fact, many air mattress manufacturers warn consumers against everyday use. Some state that daily use will void their models' warranties. But how in the world would they even know if you slept on their air mattress every night?
However
In practice, people often need to slumber on an air mattress nightly for various reasons. They might've gotten rid of an old bed or moved to a new home and not have had the time or money to buy a new bed. Or they're waiting for a bed delivery.
Air mattresses are also useful to travelers, people living in temporary residence for an extended period of time, hosts of frequent guests, and Airbnb operators.
Did you know?
Air mattresses can help provide some relief for chronic back pain. To sleepers requiring constant firmness, air mattresses that don't leak or have special pumps which monitor the internal air pressure level during the night–and add more air when needed–can offer great support.
What to Look for in an Air Mattress
Comfort: This is a top priority for a night of rest and pain-free waking. Although purists believe an air mattress will never be as comfortable as a real mattress, the right model can come pretty close. Generally, a thicker mattress is more comfortable than a thinner one and provides more firm support and "air padding." Some lose some air throughout the night; therefore, you'll want to start out with a thick layer of air. Thinner air mattresses have less air to lose…so you might wake up lying on the ground. For more padding and support, you can always add a mattress topper or body pillow.
THE WINNERS
Expert Tip: Air Loss vs. Stretching
New air mattress expands and stretches during the initial few uses, which makes it seem like it's already losing air! Luckily, this usually isn't the case. A new mattress may shrink in height as its sides stretch out…and thus only need to be topped off with air. On the other hand, a new mattress shouldn't deflate to the point of sinking.
Durability:Air retention of most air mattresses declines through use. Nonetheless, within the first year or longer, an air mattress shouldn't deflate noticeably overnight. At most, it should need topping off every few nights. Nonetheless, its longevity depends on when, how often, and how much it requires more extensive air refills. Also, an air mattress' lifespan is affected by its use and care.
Height:High profile (raised) air mattresses are 15 to 24 inches tall when inflated. They're easier to climb in and out of. Being higher off the ground may keep the sleeper warmer and mimic a real bed. Low profilemodels are four to nine inches tall when inflated.
Size:Air mattresses are sold in standard sizes (i.e., twin, queen, king, etc.). We found during research, however, many air mattresses actually are slightly smaller than standard sizes. In any case, the size you chose depends on how many people plan to share the air mattress. Check the model's maximum weight limit to make sure it can support all occupants.
Ease of Set-up/Take-down:Air mattresses are usually simple to inflate and set up. Likewise, they're often easy to deflate completely, fold up, and put away. Many manufacturers advertise the number of minutes (five to ten on average, depending on the mattress size) needed to inflate and deflate a mattress fully.
Type of pump:The feature directly affects ease of set-up and take-down. Strong pumps that fill the mattress as well as suck out air make inflation and deflation efficient. Many air mattresses come with pumps–either external or internal. More deluxe models have a dual-pump system, where an external pump fills the mattress while an automatic internal pump senses air loss and adds air to the mattress while you sleep. Some pumps work via remote control, so if you wake up during the night to a too-soft mattress, you can activate the pump to add air.
Construction materials: Most airbeds are built with polyvinyl chloride (PVC), which emits an odor (that often dissipates within a day or so) when the mattress is new. Consumers seeking non-PVC, phthalate-free air mattresses can find models made of thermoplastic polyurethane (TPU) or even soy-based materials. The mattress' top may be covered with padding or even memory foam, which comfortably conforms to your body.
Return and Warranty Policies:In order to guard against buyer's remorse and defective purchases, scrutinize the manufacturer's warranty before purchasing the air mattress. You'll need to have enough time to test out the mattress and return it if it isn't right for you.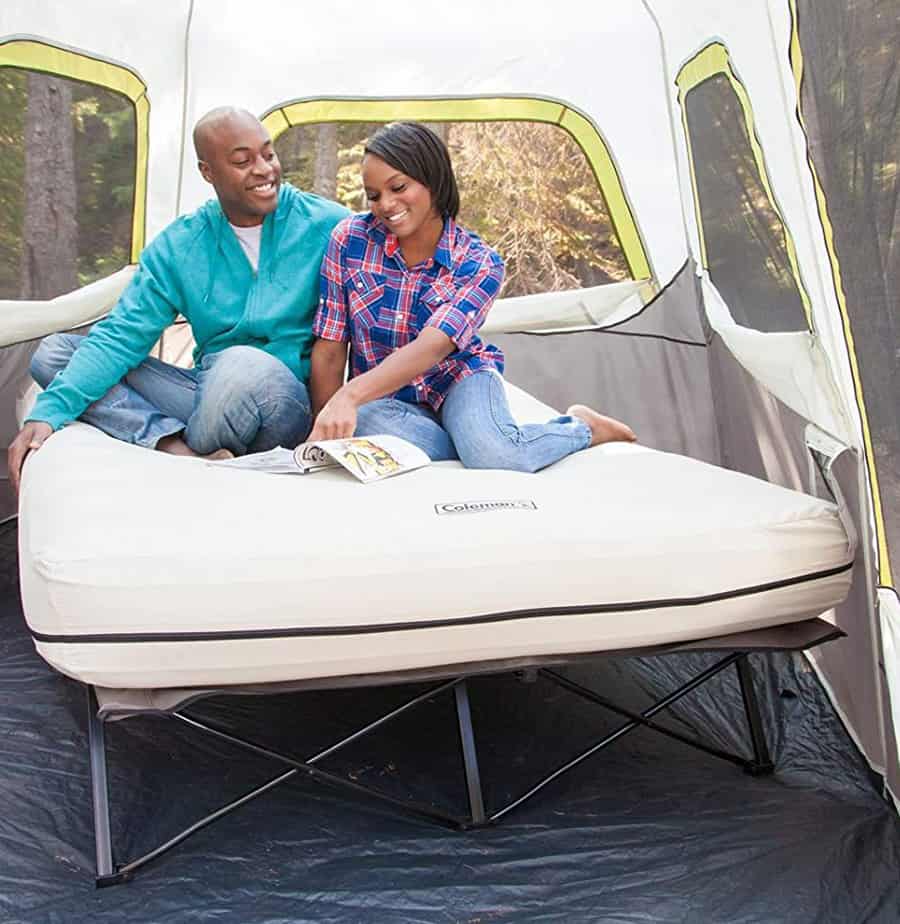 Let's dive in!
Reviews of the Best Air Mattress for Everyday Use
Getting the Most Out of Your Air Mattress
Air mattress ownership and use are simple, for the most part. Just blow it up and hop on. Then when you're done, suck out all the air, fold it up, and store it away.
But note:
You can prolong the air mattress' longevity by:
as a preventive measure, covering it with a cloth to create a barrier between the mattress and the sleeper, dust, and dirt.
wiping down the top and sides with a clean cloth lightly moistened with water and mild soap, at least every couple of months (or more often). Then let the mattress air dry completely.
wiping down any hardware, like an external pump.
sprinkling the top with baking soda to reduce odors. Let the baking soda sit for at least a few minutes and then vacuum it up.
putting the mattress outside in the sun, on a warm day, if possible.
when deflating it, allowing air to empty at its own rate (or that of the pump extracting the air). Don't jump on the mattress to force out air more quickly.
when folding it up, keeping the air plug or valve open to let air escape.
storing it in a box or bag. Ensure the storage location is dry with a consistent temperature. Humidity and fluctuating temperatures can promote mold and mildew growth and stress the materials.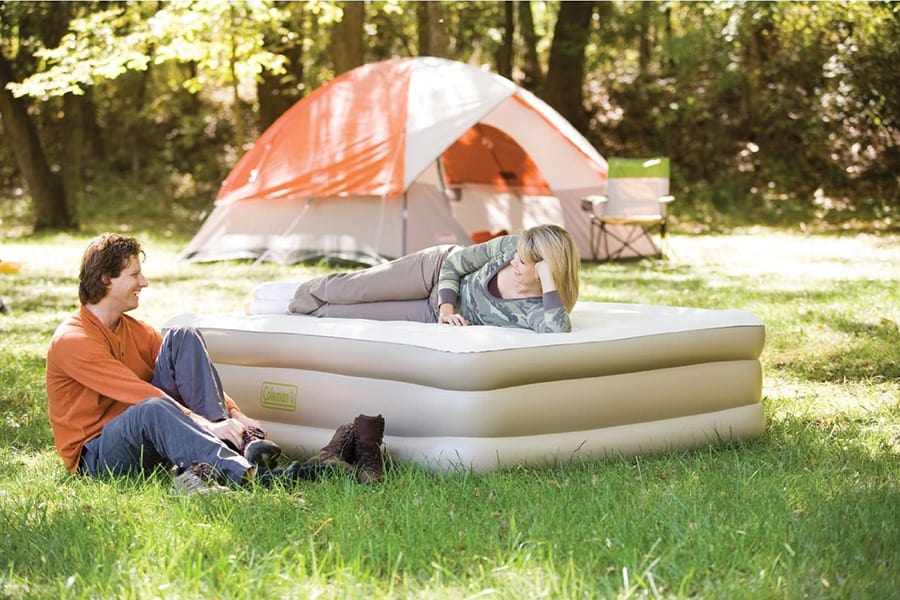 How to Maintain Maximum Air Retention
Air mattresses at their best stay pumped up and filled with air. Over time and with use, even the best models lose their ability to retain air completely. Imagine lying on a deflating air mattress while listening to someone spewing a lot of hot air.
But this isn't a lot of hot air
In order to keep your air mattress as airtight and leak-free for as long as possible,
Don't overinflate it: don't turn the mattress into a balloon to make it firm! Over-inflation stresses the mattress' seams and material, leading to tears and leaks.
Keep it inflated during the period of frequent use: if you plan to use it every night for a duration, don't deflate and re-inflate it each day. That puts constant wear and tear on the seams.
Don't overload it: follow the manufacturer's maximum weight restrictions and avoid piling on multiple bodies.
Minimize time spent sitting on the edges: of course, you need to sit up to climb out of bed. Just don't linger too long or perch on the edges for a chat.
Don't use sharp objects near it: avoid using items like pens, pencils, knitting needles, regular sewing needles, knives, etc. on or around the mattress.
Make sure nothing is under it: a small item of any shape can wear or tear a hole in the bottom side.
Keep the filled mattress in a dry place with a consistent and non-extreme temperature: just as in storage, humidity and fluctuating temperatures aren't kind to a mattress.
Keep pets (e.g., dogs, cats, anything with teeth and claws) away: you may want to cuddle with your furry friend, but just one bite or scratch can lead to a hole.
Don't jump, bounce, cannonball, wrestle, etc. on it: as fun as playing on an air mattress is, that's not what it's built for.
Frequently check for air leaks…
…which brings us to the next topic…
Dealing with Air Leaks
One day you notice that you're not as high above the ground as you used to be. Nearly all air mattresses eventually leak. Finding the leak can be frustrating, but if you can't spot it visually, here are a few tricks.
First, inflate the mattress to full (but NOT beyond) capacity. Make sure the air valve is closed. Then take the mattress into a quiet room large enough to flip it around to examine all sides.
Hiss Test: Move your ear along its surfaces to listen for hissing noises of air escaping.
Wet Hand Test: Moisten the back of your hand with water or rubbing alcohol. Run your hand over (a few inches away from) the inflated mattress. When passing over a leak, your hand will feel cold as the air quickly evaporates the moisture.
Tissue Test: Take a piece of tissue paper and place it flat on one area of the mattress. Gently press other areas of the mattress to direct the air to the area where the tissue sits. Listen carefully for a hissing noise and look for any fluttering of the tissue. If the tissue is right over the leak, you'll hear air hitting and moving it.
Soapy Water Test: Warning–this effective method can lead to mold and mildew and isn't recommended for plush-top air mattresses. Create a solution of a few drops of liquid dishwashing soap mixed with water, as if you were going to blow bubbles. However, you won't be the one blowing bubbles–the leaky hole will. Dip a sponge or cloth into the soapy mixture. Then slowly and with gentle pressure wipe a thin layer across the mattress' surfaces, around the valve, on seams, etc. Wherever you spot bubbles forming, air is blowing out of the hole. Important: when finished, wipe the mattress completely dry.
After locating the leak, mark it with tape or carefully circle it with a marker. Deflate the mattress and repair the hole.
How do I do this?
In a pinch, cover the leak with a piece of duct tape–but only temporarily. Hopefully, your air mattress model came with a repair kit or at least patches. If not, purchase a patch kit like this or this.
Babies and Air Mattress Don't Mix
Parents: do NOT let your babies sleep on an air mattress. In 2017, National Public Radio reported that although inflatable beds are economical, they shouldn't substitute for real cribs. Air mattresses have "uneven, soft, impermeable surfaces [that] are dangerous for babies, and can increase the risk of sudden infant death."
Here's some evidence:
Between 2002 and 2007, the U. S. Consumer Product Safety Commission (CPSC) "received reports of 16 tragic deaths, mostly infants younger than 8 months of age who were placed to sleep on air mattresses: 11 suffocated in a face down position on an air mattress and 5 died due to suffocation after falling into gaps between the mattress and bed frame and mattress and adjacent furniture or wall." Between 2004 and 2015 across 24 states, the National Child Death Review Case Reporting System found that 108 infants died on air mattresses.
Instead
Put your slumber baby on a quality crib mattress in a crib.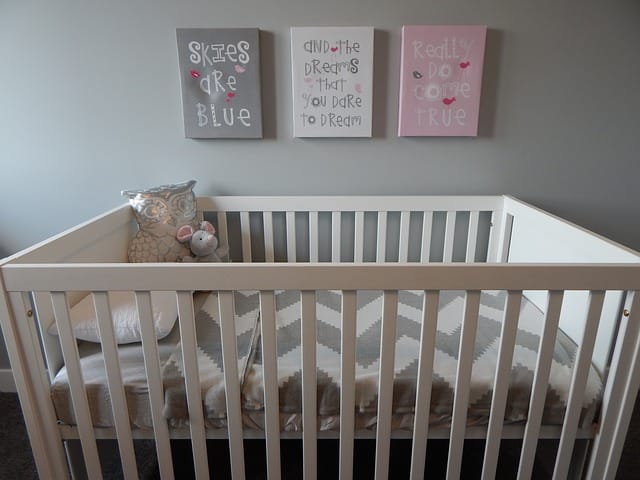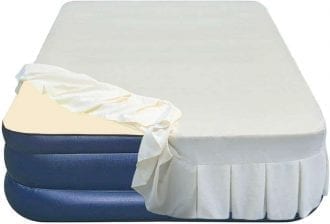 Best of the best
Airtek Queen Foundation Series Premium Air Mattress
No bed, no couch, and no sleeping bag? No problem! Try the best air mattress for everyday use. Easy and fun to nap on, air mattresses aren't just hot air!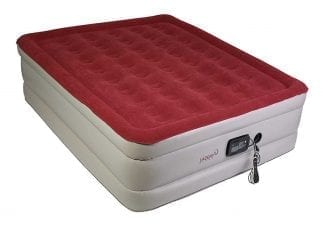 Most Buying
Lazery Sleep Air Mattress
No bed, no couch, and no sleeping bag? No problem! Try the best air mattress for everyday use. Easy and fun to nap on, air mattresses aren't just hot air!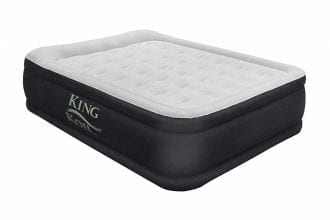 Best for the money
King Koil Luxury Raised Air Mattress
No bed, no couch, and no sleeping bag? No problem! Try the best air mattress for everyday use. Easy and fun to nap on, air mattresses aren't just hot air!