Buyer's Guide: Laser Levels Demystified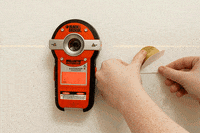 There are tons of laser levels available in the market.
So, which one should you buy?
Each product comes with its own pros and cons. But remember, the laser level you should get solely depends on your intended use and requirements.
Here are some important factors to consider before choosing your perfect laser level:
Accuracy and Visibility Range
The accuracy of a laser level means its ability to determine the leveling of a work surface by a fraction of an inch.
For example…
A laser level with an accuracy rating of +/- 1/8 in. is more accurate than those laser levels with an accuracy of +/- 5/16 in. The best laser levels are the ones with the highest accuracy.
The visibility range is the distance a laser can be seen from with the naked eye. You can work with larger work surfaces if your unit has a higher visibility range.
Generally, class 2 laser diodes can be seen up to 50 ft. indoors, which should be enough if you're working on small to mid-scale construction sites. Large-scale constructions usually require a higher visibility range.
Manual-Leveling VS Self-Leveling/Automatic Leveling Lasers
Cheaper laser levels come with manual handling, which means you will have to look at a bubble vial to check if the unit is leveled or not.
This often gets tiresome.
Most high-end lasers are self-leveling and come with an internal pendulum. They can automatically level themselves up to 5 degrees. In case the unit is jolted and the leveling moves beyond 6 degrees, an out-of-level indicator informs you about it.
Self-Leveling lasers are timesaving and ensure more accurate results. The good thing about manual leveling lasers, however, is they are essentially maintenance-free.
Horizontal VS Dual-Beam Lasers
Horizontal lasers emit only horizontal beams and are useful for checking floor leveling. Their applications are limited as compared to dual-beam lasers, but they're cheaper so that makes up for it.
Dual-Beam lasers emit two laser beams – horizontal and vertical. They're flexible because you can use both beams separately too. One of their best application is as plumb and level reference lines. They can be used to ensure the square-ness of a surface.
Laser Detectors (Laser Receivers)
Laser Detectors, also called Laser Receivers, basically exist for two primary purposes:
To extend the working range of a unit
To enable use outdoors or in bright light conditions.
Most detectors use sound emissions to help you get on the right level. A fast tone signals you to move the detector down, a slow tone to move up, and a steady tone to let you know you're at level.
Laser Detectors are mostly used for outdoor activities.
So…
If you don't intend to use your laser level outdoors, a detector might not be very useful.
But if you do intend to use your laser level outdoors, then make sure that it has detector support, because not all laser levels offer it.
IP Rating
IP stands for "Ingress Protection".
Confused?
It's a rating standard that tells you about a product's effectiveness at preventing the intrusion of water, dust, and dirt.
The size of the object that can intrude the product is usually referred by the first digit of the IP rating, and the capacity of the product to repel it is referred by the second digit.
Mounting Threads
Mounting options can be very useful for your laser level's stability, like if you want to keep the beam at a specific height.
A standard tripod can be used to mount most laser levels, but some might require a special mounting device.
The Top 10 Best Laser Levels
Summary: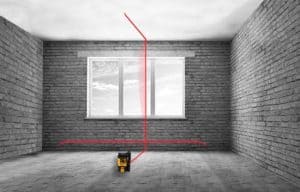 Laser levels are modern and efficient alternatives to old chalk lines and can help multiply your productivity if you're in the construction business or are a DIY-enthusiast.
Before you buy one for yourself, however, there are several factors to consider. These include accuracy, visibility range, laser beams, leveling, IP rating, mounting options, and price.
Once we factored in the above, we concluded the DEWALT DW088K Self-Leveling Cross Line Laser to be the champion of the laser levels.
However…
If you still aren't sure which laser level to purchase, here's some additional food for thought.
Consider what type of jobs you'll be using for it…
What Do You Want To Do With a Laser Level?
Some laser levels are designed for a specific task and perhaps would not be useful for you and your agenda. So, you need to be clear on what your requirements are.
Here are some common types of laser levels and their specific applications:
Single beam lasers:  Great for checking the leveling of walls and/or floors before installing tiles or heating vents.
Dual beam lasers (simple horizontal and vertical lasers): User for shifting points from the floor to the ceiling, easy installation of lighting. You can also use one beam for single beam use.
Dual beam lasers (cross line lasers): Primarily used for installation of electrical and plumbing systems, and for fitting tiles onto walls. Also useful for installing long rows of wall fitting and cabinetry.
Rotary lasers/line lasers with laser detectors: Best for job sites in well-lit areas and those spanning more than 50 ft.
There are a lot of great options out there. Finding the best laser level to get the job done isn't too difficult of a task.
In fact, we think you're pretty well prepared to make a final decision after reading our guide.