On the other hand…
Fiberglass poles are usually cheaper than aluminum poles, and they don't corrode.
However, when it comes to durability – fiberglass isn't as strong and reliable as aluminum, and it can break more easily.
That can be a bit of a problem, because…
In order to be strong, a fiberglass pole has to be a lot thicker than an aluminum one. Also, fiberglass is more brittle, which can be a problem in cold temperatures.
Over time, fiberglass tent poles will shatter – this is something that won't happen to aluminum.
Here's the deal…
If you're on a shoestring budget, you can go with fiberglass poles – just make sure they're thick enough to support the tent.
Fabric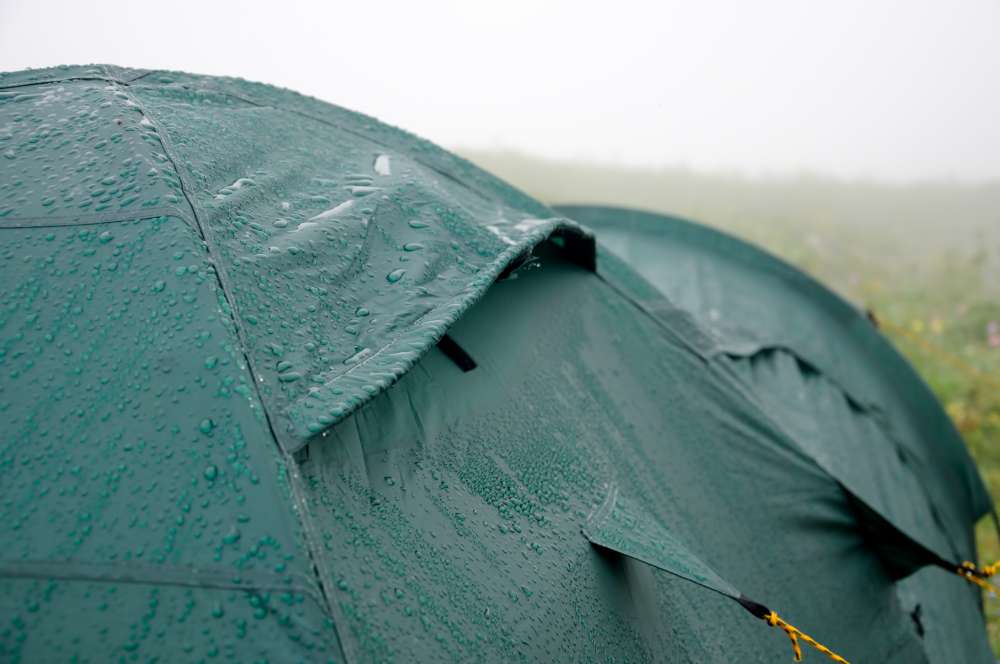 The poles are just first base. The next key element is the tent fabric.
The quality of the fabric will determine whether your tent is any good or not. And we've come a long way–no longer do we need to rely on caribou skins to make a tent.
If the fabric is not good, the tent will be leak rain and develop moisture. Also, the tent would be more prone to damage, because bad fabric tears quite easily.
Now, get this…
These days, tents are made of all kinds of materials, and they all have their pros and cons.
This is why it's important for the tent to have a good material, but also material reinforcements.
Reinforcements will protect the most sensitive parts of the tent fabric, making sure they last longer and that there's no wear and tear.
For example…
Nylon and Polyester are good tent materials, because they're affordable, light, and don't require a lot of maintenance.
However, they're not the best insulators (as opposed to cotton, for example), and they can condensate the air inside the tent.
Tent canvas is very good.
It's made of cotton and it insulates extremely well – which makes it an excellent solution for camping during warm weather to help lock out the heat.
Cotton absorbs water well and it's breathable so condensation won't occur.
However…
A major drawback to cotton is it's really heavy.
It's very bulky for transport, and it's also harder during tent set-up.
In addition, cotton needs to be dried before packing because it absorbs water. And it's definitely more expensive than man-made materials, such as nylon and polyester.
But, here's the thing…
There are also tents that combine cotton and man-made materials, to achieve higher quality and durability.
Sometimes, you don't have to "root for only one team".
Rainfly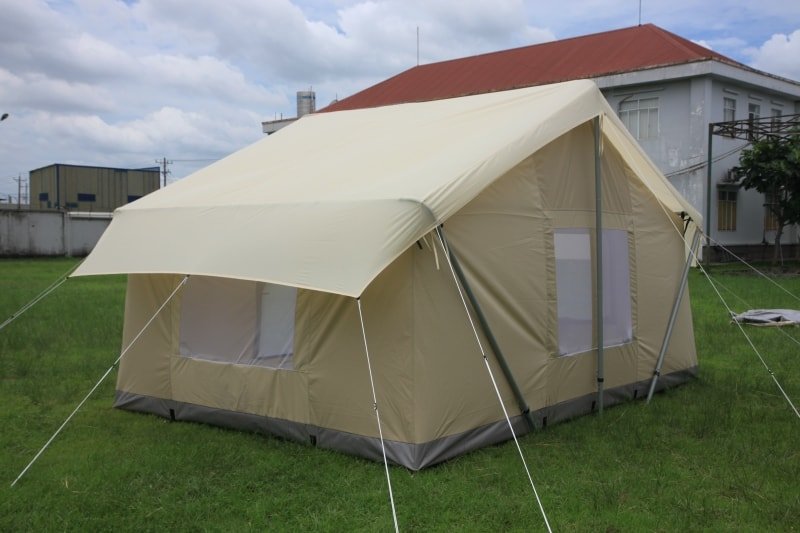 The rainfly is the staple of every decent-looking tent. It's the outer layer of the tent and, in most cases, is removable. It should be waterproof, and it generally is.
The rainfly is separate from the tent body and serves as an extra cover. If a tent is single-layered, it only has the rainfly with a floor attached to it.
It's extremely useful when it comes to venting the tent. When a rainfly is removable, it will offer much more breathing room and allow you to gaze at the sky through the mess roof.
Listen to this…
The rainfly is also known as a flysheet, fly, or outer tent – so, don't get confused if you come across those terms as well.
It's practically one and the same thing.
Below the rainfly is a mesh vent, through which fresh air will come into the tent, keeping it cool. It's also great for enjoying the outside view.
Also…
The rainfly can save you from the rain, because it serves as the protective layer of the tent.
For extra protection and higher functionality, it's definitely recommended a tent has a rainfly. It will only improve upon the tent's structure and make your camping even better.
It's not essential for a tent to have a rainfly, but it's definitely a huge plus.
Guy lines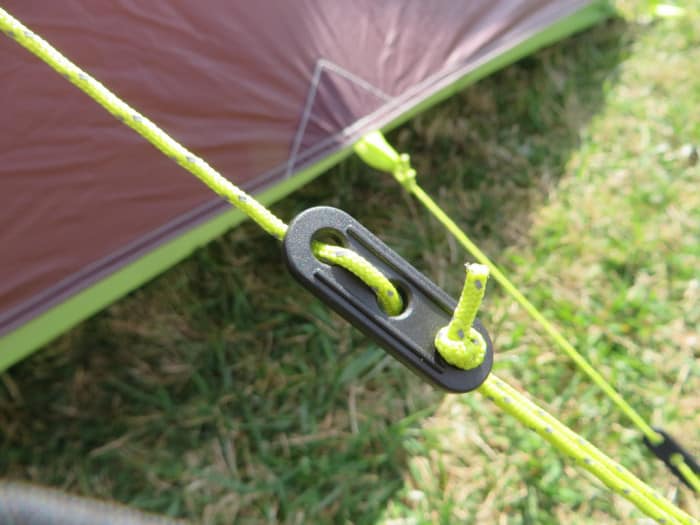 Don't let the name confuse you. This part of tent is also known as guy-wire, guy-rope, or  just – guy. But it's all one and the same thing.
The guy line is a tensioned rope whose purpose is to hold the tent together i.e. add stability to it.
However…
Stability is just one side of it. Guy lines are also very important for ventilation. It may sound silly to you, but they are.
The reason is simple.
If you have a two-walled tent, it will be ventilated much better when the mesh wall and the rainfly are separated.
This is why guy lines are necessary. They will keep the mesh and the rainfly separated, thus allowing air to go through them and keep the tent ventilated.
One more thing.
It's much safer if the guy lines are closer to the ground. If they are tensioned too high, you might trip over them, especially during the night or foggy weather.
That's why many tent owners opt for reflective guylines – that glow in the dark –  to keep themselves safe in low visibility.
Accessories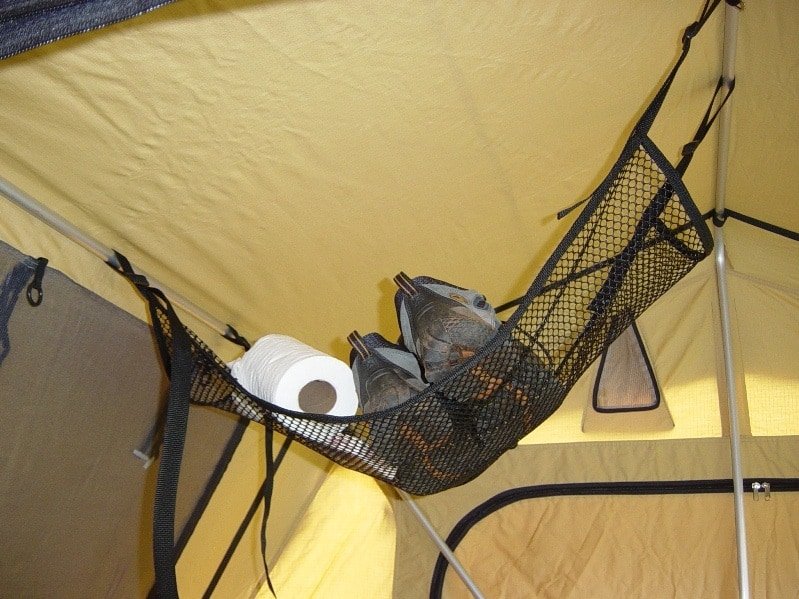 There are all kinds of accessories a good tent can have. These include straps for easier handling and reinforcement–necessary for the tent poles.
Furthermore…
A tent can have pockets for storing small items.
These pockets can be placed on the tent side or on the top. They're very practical, especially if you've brought a lot of extra stuff with you.
There are also optional tent accessories, such as the footprint – a piece of ground cloth that goes right beneath the tent floor. Some tents go with the footprint, but it's usually sold separately.
Why is this important?
Footprint is a very useful tent accessory, because it can really protect the tent floor, especially in areas with bad terrain. If it damages, you can replace it – and it will cost you far less than to replace the whole tent.
Some tents come with their own gear loft, which is a great thing to have. they're like small hammocks for storing things, and can come in useful if you have too many personal things on you.
More stuff coming…
There is also the tent repair kit (a smart thing to have, especially on longer trips) and seam sealer – because you never know what might happen.
All of these things are optional, so don't expect every tent out there to have them. However, if a tent you like has some of these, it's a great addition.
Just don't be disappointed to find none of these. As I said, they come separately…
What to make of it?
In general, the more accessories a tent has, the more practical it is. (But also the more heavy it is to carry.)
Of course, these accessories should all serve a concrete purpose, and not be there without any particular reason.
But, you get the picture…
Practicality
Practicality usually means two things – seasonality and ease of set-up.
Seasonality
The tent you buy has to be reliable.
Period.
It shouldn't tear easily and underperform in bad weather. Whatever the weather is, your tent has to be easy to set up and disassemble.
Otherwise – it's just the wrong choice.