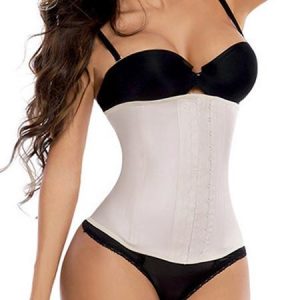 Looking for the best waist trainer can take longer than expected. It's a piece of clothing we've been using for centuries, which is why there are so many versions out there. And they're all very different, but at the same time kind of the same.
You might be wondering:
How am I supposed to pick the right one? What you're looking for is something that will give you results and boost your confidence. At the same time, it needs to be comfortable enough for you to wear it wherever you want. There's a lot to consider, but we've managed to come up with some very good options.
Why Trust Us
We made it our mission to find the best products out there. To do that, we had to ask women for their opinions and test a bunch of different brands. What we ended up with are these seven amazing waist trainers.
Buyer's Guide
Waist Trainers At A Glance
When picked right, a waist trainer does wonders for your figure and for your posture. It helps you get slimmer around the waist and doesn't poke or irritate you anywhere. We got women to answer every possible question and tested a bunch of items to get to the very best.
Buyer's Guide To The Best Waist Trainer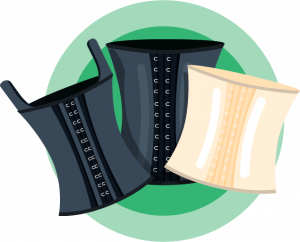 Choosing the right waist trainer isn't as easy as it may seem. You need to think about a lot of factors: slimming effect, versatility, comfort, durability, ease of use… That's a lot of questions that need to be answered. Where should you start?
Here's the deal:
The first thing you need to do is decide between cinchers, training corsets, and regular corsets. They're all meant to help you with waist training, but they don't feel the same. What's even more important, they don't get you the same results.
To make your decision, go through these features to see what matters to you the most:
Slimming effect
The main purpose of any waist trainer is to make you slimmer around the waist. Corsets give the best results, shedding 3 to 6 inches off your waist as soon as you put them on. But if you want long-term results, you should wear a cincher or a training corset while working out. Both can slim you down by inches, although training corsets shape your waist better.
Versatility
If you want a waist trainer for every occasion, go for a cincher. You'll be able to work out in it, and you won't have to take it off before going to bed. If you care more about color and style options, pick a regular corset. Training corsets can be worn while working out, but not to bed, so they're somewhere in between.
Comfort
Regular corsets have steel boning and rigid materials, which makes them the least comfortable option. You'll find steel in training corsets, too, but they're stretchy, so it's not that bad. With plastic boning and flexible materials, cinchers are the best option when it comes to comfort. To feel even better in your waist trainer, look for one with a quality cotton lining.
Durability
Which of the three would last the longest? There's a bigger difference between brands than types of waist trainers. But there's one more thing that affects how long they can be used – the type of fastening. Corsets have laces you can use to resize them, while some cinchers and training corsets have two or more rows of hooks.
Ease of use
Cinchers and training corsets are usually very easy to use. You just wrap them around your waist and fasten at the front. It's not the same with corsets, which have both front fasteners and lace-up backs. That's why it's not unusual to have trouble putting on and taking off your corset.
Still not sure which type of waist trainer would be ideal for you? Try making a quick comparison: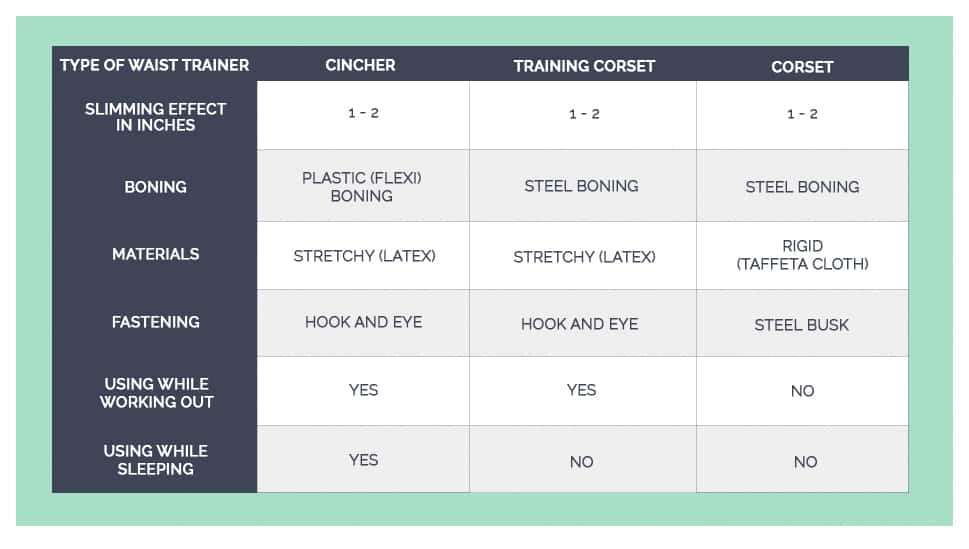 Still not sure? As your next step, think about what type of material would suit you best:
Latex can be either natural or synthetic. The first one is sometimes referred to as natural rubber. This type of material is at the same time stretchy and breathable. It's a much better option for those who plan on working out in their waist trainers.
Taffeta cloth is one of the materials used to make regular corsets. It's actually silk that's gone through extra processing steps. Although it's really sturdy, it's also quite rigid. That's why it's a better choice for those who don't plan on working out while waist training.