With a flappy design, the VIKTOR JURGEN Shiatsu Neck & Shoulder Massager (wow, that sounds Russian) comes with a lot of features and takes pride in a fast relief of fatigue. We can't conclude that from the Amazon product page, so we decided to put this American invention to the test.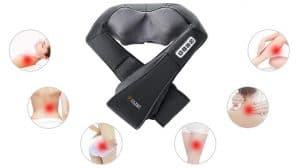 While featuring some unique functions, let's get the market-standard bulk out of the way: The massager comes equipped with a heating function, car and AC adapter, as well as 8 different massage modes and helpful hand straps.
Besides the basics, the neck massager is ergonomically built, turns off automatically after 15 minutes, and has a low voltage but powerful motor (12 V), ensuring a safe and power-saving use.
The benefits of this product are vast, but the first that comes to mind is the adaptability. It can be used on a lot of body parts, including the neck, shoulder, lower & upper back. But more than that, a big plus is the complex yet easy to use control panel, featuring a power button, heat button, strength, and automatic functions.
The downsides of the VIKTOR JURGEN are hard to come by, yet we have to mention the bulky size and weight ( 4.1 pounds).
It all sounds good, but let's see how it fares hands-on.
While some people we've interviewed complained about the bulkiness of this neck massager, our focus group was generally happy about with it. Over 90 % of them stated they'd recommend it to a friend.
Moreover, people were surprised by some features and mentioned they liked the breathable material this machine was built out off.
In our testing, we appreciated the immediate nervous stimulation this massager provides. It really gives a sudden relief of stress once you place the thing on your back.
Features
8 Massage balls
2 Direction Controls
Heating option
3D Massage.
pros
Versatility, being useful for a lot of body parts.
cons
Bulky size and weight (4.1 pounds)