So, you've done your research and decided that a hamster is the pet for you! Awesome! What's step two? Finding the best hamster cage for your new buddy, of course.
Here's the thing, though...
That's easier said than done.
There are tons of different hamster cages out there, of all shapes and sizes. Lots of them come with colorful tubes and fun designs, but unfortunately, that doesn't necessarily mean they'll make a great home for your hammie.
In fact, very few hamster cages sold in USA pet stores are actually suitable for a hamster.
But don't worry.
We've done the work for you, sorting through all the options to bring you only the top ten hamster cages we could find.
We'll walk you through all the tips and tricks we learned in our research so that you know exactly what you're looking for in a hamster habitat!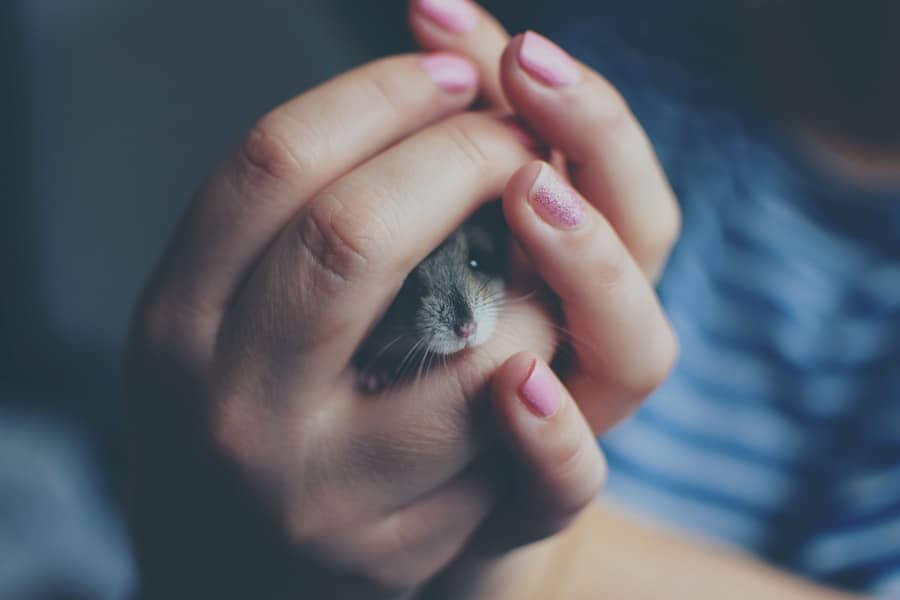 Research You Can Trust
We know how important it is that your hamster has a happy and healthy home, so you can bet we've done our research.
How, you ask?
Well, first we consulted expert advice from well-respected animal welfare organizations, and gathered opinions and experiences from real customers. Next, we dug deep into the specifications of every single product you see here on our list, weighing out all the pros and cons to determine which came out on top.
Why do all this research?
So that we can bring you real, unbiased reviews to help you make the best choice possible for you and your hamster!
Buyer's Guide
How to Choose the Best Hamster Cage
So, when it comes to choosing a hamster cage, the most important thing to look for is space, space, and more space.
And more space.
A little more…
Nope, more than that.
Why so much space for such a tiny creature?
Because nobody likes living their whole life in a cramped box, and your furry friend is no exception. The ASPCA recommends a ten-gallon aquarium tank as the minimum cage size for any type of hamster, which measures 20 x 10 x 12 inches.
But not everybody agrees on that. Some hamster experts say that those dimensions are too small even for dwarf hamsters. They recommend at least 360 square inches of floorspace for Syrian hamsters and 288 square inches for dwarf hamsters.
So basically, if you can go bigger…
You definitely should.
The thing is that hamsters, despite their size, are high-energy animals. In the wild, they can spend all night running and burrowing and generally exercising their little hamster hearts out.
Even though they're little, they are fierce and they need lots of room to run and play.
House Hunters: Hamster Edition
Aside from size, there are a bunch of other factors that you've got to consider when you're hunting down the perfect hamster habitat.
First and foremost:
Which Type of Hamster Are You Housing?
Did you know that there are actually five separate species of hamster?
Yep! Not just type, but species!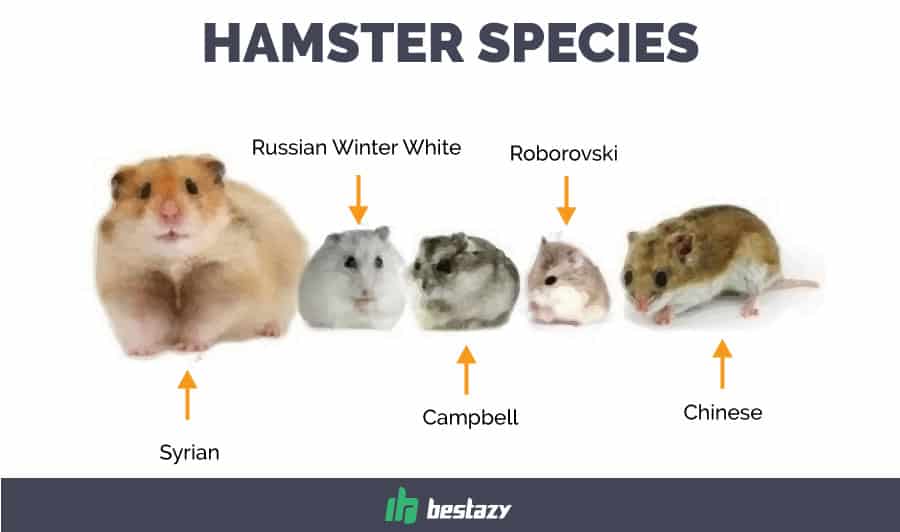 Four of these species — the Russian Winter White dwarf, Campbell dwarf, Chinese, and Roborovski hamster — are extra super tiny.
So, naturally, they need less space.
But when you think 'hamster,' chances are the image that first comes to mind (if it's not Hamtaro) is the Syrian hamster.
These guys are the biggest type of hamster around, at about six inches long. They come in all different colors and coat lengths, and sometimes you'll see them labeled in pet stores as "teddy bear" or "black bear" hamsters depending on their coloring.
Because they're a bit bigger, they can be easier to handle, and this can make them a better choice for kids than the speedier, sneakier dwarf varieties.
Of course, each of these hamster species has their pros and cons, and it's up to you to decide which one is the best fit for you.
But remember, if you're getting a Syrian hamster, you've got to be prepared to invest in a bigger cage.
Bar Space
No, not that kind of bar. (Sorry!)
Although that would be adorable. A hamster bar. With little teeny tiny drinks — non-alcoholic, of course — and hamster-sized shot glasses and bar stools and…
Ahem. Sorry, we got carried away.
So, bar space! We're talking here about the space between the bars of your hamster's cage. This is important for one simple reason:
Hamsters are expert escape artists.
Not all of them, but a lot of them, and especially Syrians.
It's like there's something in their tiny hamster hearts that tells them they must go onward and explore faraway lands, all Disney-movie-style.
But you really, really don't want your hamster to find a whole new world outside of her cage, where she could get hurt or worse.
So it's important to be sure you're getting a secure cage.
That means no more than a half inch of space between the bars — and even less for dwarf hamsters. For these tiniest of tiny friends, we'd recommend sticking with no more than around a quarter inch of space between cage bars, depending on the individual hamster.
As a rule of thumb, if they can get their head through something, the rest of them will soon follow.
And then you'll have to go hunting for a lost hamster somewhere in the walls of your house. Nobody wants that.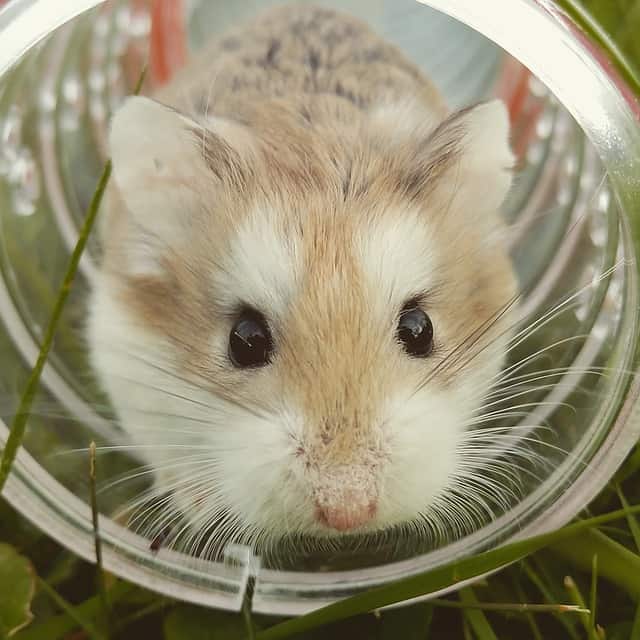 Materials
Plastic, glass, wire, wood — hamster cages come in all sorts of creative designs. When you're looking at the material the cage is made out of, you should keep in mind a couple of things…
Lots of cages come with detachable tubs on the bottom so you can just dump the bedding out into the trash, which makes life a lot simpler. Other cages have all sorts of tubes and ramps and whatnot that you're going to have to figure out how to safely sanitize. Preferably without having to take the whole thing to pieces every single time. Because that gets old fast.
Wooden cages can look beautiful, but many a hamster has chewed a hole right through the wood and made a grand escape. Make sure that any cage you buy is accounting for the fact that hamsters like to chew. A lot.
Accessories
Are you looking for the perfect ready-made hamster playground?
Or do you want a simple, spacious cage that has room for you to do your own interior decorating?
You'll find plenty of fully-furnished cages with wheels, water bottles, food bowls, ramps, tunnels, and more. These are great if you want to just set the cage up and have everything ready to go from the start.
But if you'd rather have something you can easily change up and modify, look for a cage that puts the emphasis on wide open spaces. This way you can add and remove things without any finagling.
Changing up your hamster's environment from time to time can make life more fun and interesting for him…and for you, too!
Plus, this way you can redesign the entire cage on a whim to make it look like outer space.
Seriously, hamster cage themes are a thing, and they are amazing
Top Ten Happenin' Hamster Cage Reviews
THE WINNERS
Furnishing Your Hamster's Home
Once you've got your cage, it's time to put all those hours you've spent watching HGTV interior decorating shows to good use.
Researchers have found that hamsters who live in more comfortable, enriching environments actually are more likely to have an optimistic outlook in life.
Makes sense, right?
You'd probably feel pretty positive about your life too if you had a home full of awesome stuff.
So if you want your hamster to go through life seeing the water bottle half-full, there are a few things you'll need to help him feel right at home…
Bedding
When you're looking for hamster bedding, softer is better. Plenty of hamster owners swear by recycled paper beddings like Carefresh, whereas others stick with plain old aspen shavings, which are a bit cheaper.
If you're really in a pinch, plain shredded paper (not newspaper!) also works just fine as a temporary bedding, with one big downside: it gets a lot smellier…a lot faster.
Trust us on this.
If you want to change things up a little, try mixing different beddings together. Most hamsters will pick a particular corner of their cage as the designated restroom, so you can try putting more absorbent bedding in that corner.
And here's a bedding-related tip: Although cotton fluff is sold as "nesting material" for hamsters, it's actually very dangerous for them. They can easily get their legs tangled up and injured. If you want to give your hamster some soft and safe nesting material, all you have to do is shred up some plain, unscented tissues.
Just remember: never buy cedar or pine shavings for your hamster or any other small animal. The aromatic oils in these beddings are dangerous for tiny fluffy creatures and can cause respiratory issues.
For the same reason, stay away from scented beddings. The best way to keep your hamster's cage smelling clean is to…
Wait for it…
Clean it regularly.
Yeah, we know. Responsibility stinks.
But not as much as a dirty hamster cage.
Wheels
A good wheel isn't just a fun accessory.
It's absolutely necessary for your hamster's health — and for your sanity. Hamsters can run over five miles a night on their wheels, and if they don't get that energy out running, they'll find other ways.
Like hatching an escape plan, for example.
Or rattling their cage bars at midnight when you've got to be up at six in the morning.
So if you want your hamster to be fit and happy and not escaping into the air ducts, you're going to want to invest in a good wheel.
What makes a good wheel?
Well, there are three main things you need to consider when you're wheel-shopping: size, material, and noise level.
That last one's especially important if your hamster lives in your bedroom. These guys can and will run all night long, and if the wheel's squeaking or thumping against the floor of the cage while you're trying to get your beauty sleep, then you're going to be cursing the name of your poor hamster.
As for the material of the wheel, there are a lot of wire wheels out there in pet stores, but they're actually not so great for tiny hamster feet (or even stubby hamster tails). Those little paws can easily get caught in metal rungs or irritated by wire mesh, so we'd suggest steering clear of anything metal.
Instead, look for sturdy, solid plastic or wooden wheels, and make sure they're big enough that your hamster isn't rounding his back when he runs. He should be able to run at full speed without hunching at all, just like he would run across the ground in the wild.
For Syrian hamsters, that means a wheel that's at least 8 inches in diameter, and for dwarf hamsters, around 6.5 inches will do.
Lots of cages have "built-in" wheels, but very few of them are actually big enough for a fully grown Syrian hamster.
Toys
Toys don't just make your hamster's cage look cool — they provide super important stimulation for your furry friend so that he's not rattling the bars of his cage or generally being a fluffy force of destruction.
There are lots of adorable hamster toys you can buy, from plastic playgrounds to wooden castles, to make life more interesting for your hammie.
You can also go the DIY route, turning toilet paper rolls and tissue boxes into hamster adventure zones.
No matter which way you go, make sure the toys are non-toxic and safe to chew because hamsters will get their chompers into just about anything.
Hideouts
Hamsters are nocturnal, so during the day, they appreciate a nice, cozy hideout where they can get their beauty rest!
You can find wooden chew-friendly hideouts, cute plastic igloos, and even natural looking "tree stumps" like this one.
Or you can use an old cardboard box, really. It just has to be something chew-safe and cozy for them to burrow underneath.
Taking Your Hamster Cage Knowledge to the Next Level
So, now you've learned all there is to know about choosing a hamster cage!
You know the best hamster cage is the biggest cage.
You know how to furnish your new cage to make your hamster happy and healthy.
And you know just where to keep it.
Congratulations!
You're well on your way to becoming an extra awesome hamster owner.
So why not take a celebratory lap in this human-sized hamster ball?
Or go crazy and start your next cute, fluffy animal, adventure off by researching cages for your future guinea pig!
You know. So you can really get to know the world from your hamster's point of view.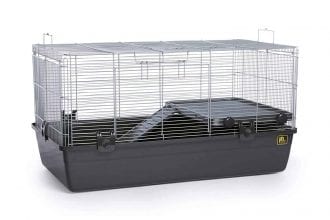 Best of the best
Prevue Pet Products 528 Universal Small Animal Home
Wondering how to choose the best hamster cage for your new furry friend? Let us walk you through everything you need to know to house a happy hamster!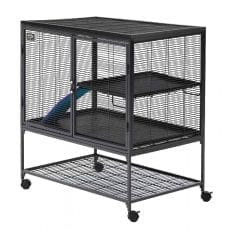 Most Buying
Midwest Critter Nation Double Unit with Stand
Wondering how to choose the best hamster cage for your new furry friend? Let us walk you through everything you need to know to house a happy hamster!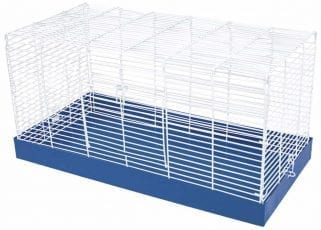 Best for the money
Ware Chew Proof 25 inch Critter Cage
Wondering how to choose the best hamster cage for your new furry friend? Let us walk you through everything you need to know to house a happy hamster!