Keeping your house warm is usually one of the reasons your utility bills turn up so high at the end of every month. Therefore, it's no surprise a lot of people are always seeking alternative sources of heat, that perhaps cost less and are more efficient. If you're one of them, you're in the right place.
In this in-depth review, you'll learn all you need to know about the best gas fireplace inserts that will convert your already existing fireplace into a cheap and efficient source of heat. These gas fireplace units will definitely bring your utility costs down and even increase the overall value of your house in the market.
And, hey!
If you don't have an existing fireplace, don't feel limited! Some of these inserts can still be placed in corners and walls.
These fireplace inserts use gas instead of electricity or wood. They come in all colors, shapes, and sizes, making them the perfect option when looking for a way to heat small rooms in your home.
Ultimately...
If you decide you want to go with an electric fireplace for whatever reason, be sure to read our reviews of the best electric fireplaces.
Buyer's Guide
Buyer's Guide
If this is the first time you're considering to buy a gas fireplace, there are a few important things you need to keep in mind to ensure you end up with quality equipment that suits all your individual needs. For example, the size of the fireplace, how high your ceilings are, the climate of the environment you live in, etc.
What To Consider Before Buying Your Gas Fireplace Insert
First, there are direct vent and vent free gas fireplaces. It's important to check with your local government whether direct vent fireplaces are allowed in your town/state before buying one.
Otherwise…
You may find yourself in some legal trouble.
No one wants that.
But, in some U.S. states, vent-free fireplaces are banned due to the accumulation of moisture in homes with tight seals.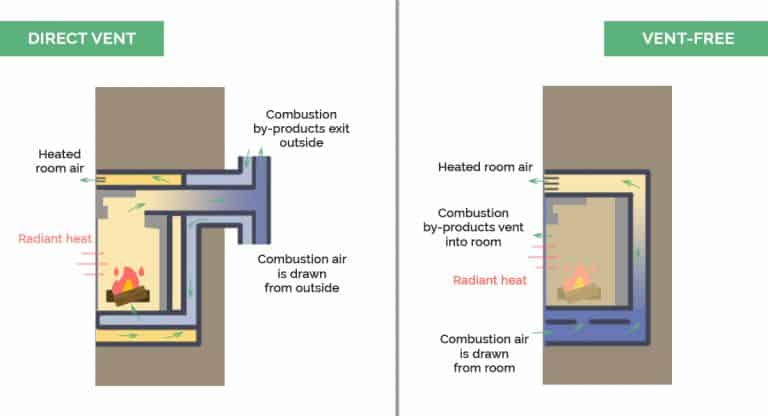 Direct vent gas fireplaces provide more venting options—typically, on the top and on the rear of the unit. This provides more options for installation. They also use air from outside for combustion. The exhaust air is directed outside the house, reducing the competition for oxygen.
On the other hand…
Vent free fireplaces are cheaper to maintain due to lower consumption rates. They're also easy to install in rental homes or after doing renovations and make for a reliable source of heating due to the 99% efficiency.
The biggest question is…
The type of fuel you're going to use. Namely natural gas or propane. If you're in a residential area where there's already a natural gas line, then this is a no-brainer. However, if you're planning to make a portable or outdoor fireplace, setting up a propane tank anywhere within the compound will do the trick. Both are clean and cheap sources of energy and the best fireplace inserts can run on both.
Plus…
Some gas fireplaces come installed with battery backup systems that allow continued use even during power outages.
Additional expert tips
Lastly, you need to consider the cost of the fireplace as well as installation fees. Unless you really trust your hands with tools, it's best to leave the installation of hearth products to a professional. They'll do a quality job and also take care of the necessary inspections and approvals.
Now that we have some background information, let's look at some of the best gas fireplace inserts you can buy in 2017.
A Complete Analysis Of Our Top 6 Gas Fireplace Inserts Selections