A second shoe designed by the mother company is the Zumba Women's Street Boss Dance Shoe. You truly will look like a boss with this commanding high-top sneaker with its shiny, metallic leather and polyurethane upper. In fact, this shoe's appearance is exactly what attracts people (after its functionality and fit, of course). Dancers love to rock this fashionable and great-looking shoe in class.
The right stuff
For hardcore Zumba practitioners, this shoe stands up to at least five workout sessions per week, including back-to-back classes. These dancers wouldn't be able to make it unless they wear a shoe with such a comfortable design and strong ankle support.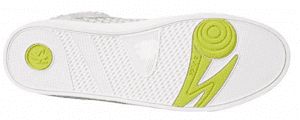 There's more
In addition to providing great support, the Zumba Women's Street Boss Dance Shoe has just the right amount of grip for pulling off intricate Zumba steps. Dancers love that the shoe's sole has two pivot circles, one under the heel and one under the ball of the foot.
A bit mixed
While some people feel the shoe is lightweight, at least one user thinks the shoe is a little heavy. What's more, while dancers praise the shoe's awesome look, a few noted the shoe model looks a bit big and long. The Zumba Women's Street Boss Dance Shoe runs true to size for most buyers, although those with wide feet advise to order a half or whole size larger.
Features
Z-Slide technology for easy sliding
Rubber sole
Leather and polyurethane upper
Leather overlays on toe and heel to protect in impact
Pivot point under heel
Pivot point under ball of foot