Brought to you by the company that develops, leads, and licenses Zumba instruction, the Zumba Women's Flex II Remix High Dance Shoe is designed specifically for this type of exercise. Dancers rave about this shoe, naming it the "perfect" shoe for Zumba–comfortable, flexible, light, and tough for high-impact moves.
Here's the deal: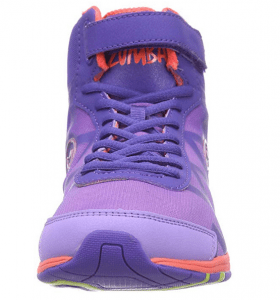 Veterans of hour-long and multiple consecutive classes, even those with wide feet, report their feet don't hurt after marathon workouts. The molded split-sole provides flexibility and stability to bust out impressive moves. In addition to soft cushioning, this high-top shoe offers excellent support and stability. Ample arch and ankle supports guide dancers securely as they execute high-impact steps full-out. In fact, one user comments that she feels confident moving, burning more calories, and progressing in choreography because the shoes have great support. An added bonus is the front ankle strap for even more stability.
Even better,
Wearers of the Zumba Women's Flex II Remix High Dance Shoe love that the shoes slide smoothly, allowing freedom of movement during class without sore ankles, knees and hips after class. The heel's pivot point and the pivot pad under the ball of the foot increase a dancer's maneuverability for twists and turns. Finally, the beautiful and hot purple breathable mesh lets out heat and sweat during intense sessions.
But
We found a few consumers with minor complaints: one user feels the shoes lack sufficient padding under the foot and another thinks the shoe's sole is too flat for dance.
To learn more about the Zumba Women's Flex II Remix High Dance Shoe, watch this informational video.
Features
Z-Flex technology for maximum flexibility
Z-Slide technology for easy sliding
Rubber sole
Mesh upper
Leather overlays on toe and heel to protect on impact
Pivot point under heel
Pivot pad under ball of foot