Owners of one or two guinea pigs say that their animals like the You & Me Living the Dream Small Animal Habitat.
However, it measures 40" long X 17.5" wide (less than five square feet) and we wonder if it actually is roomy enough.
At least one person admits the cage doesn't have a lot of running space, so her kids take the guinea pigs out often.
Another pet parent took out the ramp to provide more room.
Let's get cozy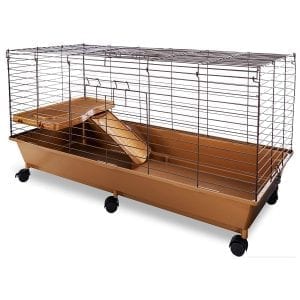 At least this cage is good for bonding– a pair of our sister guinea pigs enjoy the closeness.
A top hatch and a side door make accessing the animals and adding food simple.
Easy to assemble, the You & Me Living the Dream Small Animal Habitat is constructed of a wire cage top that snaps onto a plastic base. This configuration makes it easy to clean and change bedding.
A few reviewers wish that the sides of the plastic base are taller to prevent bedding from being "kicked out".
So
The only complaints were that the ramp is a bit steep and slippery–but at least it's textured and has curved up sides.
For one consumer, a wheel arrived broken; for another, the plastic platform piece was missing. In any case, simply contact the manufacturer (Petco) and inquire about replacements and its 60-day return policy.
Features
Cage dimensions: 40" long X 17.5" wide X 21" high
For indoors
Includes ramp and secon