YitaMotor has come up with something quite exceptional with their 52-Inch Curved LED Light Bar. Racking up on great features like brilliant lighting, rugged construction, combo beam, and a universal fit, we're absolutely in love with this product.
Let's break down the features: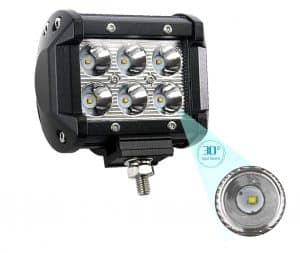 This YitaMotor 52 Inch Curved LED Light Bar features a die-cast aluminum body which holds 2 rows of 27,000 Lumens pure white light producing LEDs. It has an unusual curved design which helps in illuminating the ground in front of your vehicle. A 300 Watt output of this Light Bar results in unbelievably bright light.
This YitaMotor off-road Product is built to withstand the toughest of terrains. The 52 inch light bar boasts an IP67 rating and is dustproof, waterproof, and built for long-lasting corrosion resistance. It is the perfect choice for muddy terrains.
The product also comes with a spot/flood combo. It actually has two 60 degree flood beams and one 30 degrees spot beam. This spot/flood combo ensures that there is never anything in your path that you won't get to see from a long way back, and is the main safety feature for your vehicle as the far-spread light prevents any disasters from happening.
This curved Light Bar has a universal fitting and can be fitted with any jeep, car, SUV, motorcycles, or even boats. Apart from that, it also works great as a fog light, driving light, or even for emergency uses.
YitaMotor also goes the extra yard to ensure customer satisfaction. They give a lifetime warranty for this product, which is a great thing because there aren't many manufacturers in this space who do that. But that's not all. They also give you a 30-day money back guarantee, where they let you test out the product for 30 days and if you don't like it then you can return it and get your money back.
Package includes 1x Light bar, Mounting set, and wiring harness.
Features:
Built like a Tank with quality materials and dual row design.
Noise-reducing design helps eliminate harmonic vibration.
Moisture Breather technology reduces moisture build-up behind the lens.
Super light with quality LEDs and curved combo beam (spot & flood).
IP67 Waterproof, dustproof, quakeproof and anti-explosion.