When it comes to ice chests, one of the most recognizable names is the YETI Tundra 45. This is one of the most beloved ice chests around, praised for its quality by the majority of users.
Thanks to its rotomolded construction, the YETI Tundra 45 has no weak points, as all pieces bond together perfectly.
What most users love about this ice chest is it's extremely strong. Some people have tested it by sitting on it, and the test proved successful, as it didn't break or crack.
So, if you take it camping, or head out to sea, you won't have to worry about anything happening to it. You can also get a cushion and use it as a seat.
Where it excels…
Most high-quality ice chests on the market have thick walls, but this one is better than most.
It features PermaFrost Insulation with 2-inches of polyurethane foam all around, plus 3-inches in the lid (essential for ice retention).
But what really sets apart the YETI Tundra 45 from other ice chests is the insulation is pressure-injected.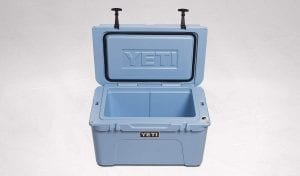 What's so great about that?
Glad you asked! It makes it denser and much more reliable.
Heat intrusion is reduced even more with the so-called ColdLock Gasket on the lid.
The rubber latches are very good and reliable, and there is an interlock lid system that enables the lid to seal perfectly.
This prevents any extra air from entering the ice chest.
As far as durability is concerned, the YETI Tundra 45 is one of the very best. With its rotomolded build and polyethylene-filled bottom and lid, it's as close to being indestructible as you can get.
In addition to this, the YETI Tundra 45 is made of UV-resistant material, and it's also bear-proof.
The manufacturer has certified this ice chest as 100% bear-proof (with two padlocks on each corner).Only steel containers have this ability. That's a must have feature if you plan on camping in areas where bears live. In fact, it's the law in many National Parks.
You don't want to get a ticket do you?
Didn't think so. Neither did we.
It's always dry on the outside, due to its No-Sweat Design, and it doesn't get moist in hot weather.
It's steady and doesn't slide, due to its non-slip feet, and it has tie down slots on each side – to make it even more stable.
Carrying is enabled via side handles, or molded LipGrip handles. These are usually used when the ice chest is not packed full, but it all comes down to your personal choice. LipGrip handles are ideal for a single person carrying the ice chest, but if the load is quite heavy – two people will be needed to do the job.
As for the features…
The "vortex" drain plug allows you to drain the ice chest partially, or at once. Some users have complained that a bit of hand drying is still needed after the draining, because not all water leaves the ice chest. But, overall, the draining is quite good.
The only thing lacking is the leash on the drain plug, because it may get lost, or misplaced. Many users have pointed this out as the biggest drawback on the YETI Tundra 45.
Anything else?
Yup. You get a dry goods basket, included in the ice chest (great for sandwiches and smaller food items).
So, what's the verdict?
The YETI Tundra 45 is a top ice chest on the market. In can fit all types of cars, boats and canoes, which makes it an ideal companion for camping trips.
It retains ice from four days to a week, and even longer (depending on the weather). All things considered, this is a really good ice chest.
And on top of everything, you get a 5-year warranty.
Features
26 x 16 x 17 inches; 27 pounds
PermaFrost Insulation
rotomolded construction
heavy-duty rubber latches
LipGrip handles
ColdLock™ gasket
polyethylene-filled bottom and lid
tie-down slots
non-slip feet
dry goods basket
Integrated padlock ports