The Arius line is the heart of Yamaha's digital piano catalog. You can think of them like more affordable and lighter-weight alternatives to upright pianos. While they're designed mostly for use in the home, the high sound quality and modern connectivity also make it a great option for recording studios, private lesson instructors, and other professional applications that don't demand mobility.
We'll start with the sound.
That's really where this piano shines.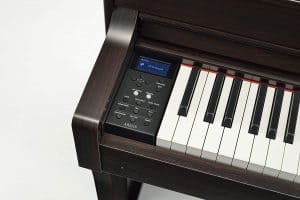 The main piano voice is modeled off of the CFX concert grand—and with an impressive degree of realism, we have to say. The tone is lush from top to bottom. Yamaha uses advanced virtual modeling to simulate the sympathetic vibrations of the strings around the note being played. This might seem like a small detail, but it's a big reason why this piano sounds more like the real thing than others.
The YDP-184 achieves a similar realism in terms of the feel. Rather than simply replicating the weight of a hammer action, they use a similar design for the key mechanism to what you'd find inside an acoustic instrument, with a three-sensor set-up for an accurate touch reading. This means the response is more sensitive to the pressure of your fingers, giving you an overall more realistic playing experience.
As if that's not enough...
The YDP-184 is also a fully-functional MIDI recorder. Many digital pianos let you record basic loops, but this model gives you 16 separate tracks, all of which can be played simultaneously for layering and overdubbing. You can export your recordings to your computer or DAW through USB for mixing, editing, and storage.
Even after all that, we've really just scratched the surface of what this piano can do. It has a full complement of on-board effects, along with features like Duo Mode and dual headphone outputs that make it great for teachers.
While it might honestly be more piano than most hobbyists need, professionals of all stripes will get a lot of value out of the YDP-184.
Features:
Keys: 88
Voices: 24
Effects: 27
Power: PA-300C adapter (included)
Weight: 123 pounds
USB: Standard (1)
Input: 1/8" aux
Outputs: 2 ¼" headphone, 2 ¼" aux