Yamaha has long been admired for the consistently high build quality of their instruments.
With the YDP103R, they also prove they're an innovative company.
This is a solid intermediate-level piano for the advanced student or serious hobbyist, and it takes advantage of advancements in technology to make it even more user friendly.
Like other Yamaha keyboards, the YDP103R uses a Graded Hammer Standard for the response and Advanced Wave Memory for the sound.
Combined, this means it both sounds and feels like an acoustic piano.
The pedal mechanism enhances this realism, giving you the option of half-damper control just like a baby grand and giving you more control over the musicality.
There are ten different voices included, two of which can be used at once in Dual Mode.
What really impressed us about this piano?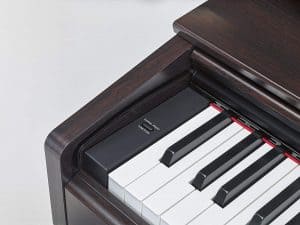 The inclusion of the Digital Piano Controller app. This app is free to install on any iOS device, and gives you easy access to a whole host of different settings that either don't exist or are hard to find on the piano itself.
You can change voices, adjust the tone, and even record yourself playing—all right on your phone.
Play live shows?
For on-stage performance, this isn't necessarily the best option.
It doesn't have line-level inputs or outputs, and professionals may find the max polyphony of 64 limiting.
For the home user, though, this piano gives you everything you need to play comfortably and sound fantastic.
Features:
Keys: 88
Voices: 10
Weight: 115 pounds
USB: Standard (1)
Inputs: ¼" pedal (3)
Outputs: headphone
Digital Piano Controller app puts settings at your fingertips
Realistic pedal control with half-damper option