Amazon Exclusive products can be a great way to get quality equipment for a great value.
The P-71 from Yamaha is a prime example of this rule and the most affordable option from the company's "P" line of digital keyboards.
You can think of it as a slightly streamlined, low-cost version of the P115 above.
Like the other keyboards in the line it offers a full 88 keys, professional-level sound, and a rich array of features.
Far more than you might expect to get for the money.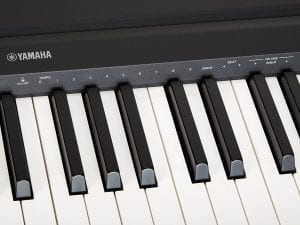 The keys on this model use a fully-weighted action, based on Yamaha's proprietary Graded Hammer Standard. This gives them the most realistic response of any keyboard you'll find in the beginner market.
The build quality is especially impressive considering how compact it is—only 12 inches deep, much slimmer than the majority of digital keyboards.
While the P71 is a great choice for students, it's equally viable as an on-stage performance instrument.
The voices are created using Advanced Wave Memory sampling, which uses a stereo image of the tone to give you a richer tone with more resonance and warmth than you'll get out of most digital pianos.
All ten voices are created using this same advanced methods, and you can even use two voices at the same time in Dual Mode.
Every Yamaha P71 comes with the power adapter and sustain pedal included. If you need more accessories, like a stand and bench, you can get them for a bit more by buying one of the bundle packages.
Whichever way you go, this is a versatile piano that's equally at home as a pro's travel instrument as it is in a hobbyist's living room.
Features:
Keys: 88
Voices: 10
Power: DC adapter (included)
Weight: 25 pounds
USB: Standard (1)
Input: ¼" pedal
Output: TRS headphone
Full keyboard of fully-weighted keys feels true to the response of an acoustic