The FC7 from Yamaha is the most affordable option on this list. It's designed for use with Yamaha electric keyboards but will function just as well with anything that uses a ¼" jack output for the pedal, including synthesizers, mixers, and other recording or DJ equipment. You can even use it with intelligent lighting or drum machines—anything that has an attribute you want to assign to a footswitch.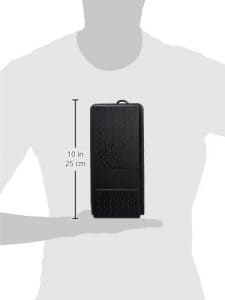 In addition to the standard controls, this pedal also has the Fortissimo Function. This lets you add a bit of extra accent to specific sections to make them stand out. This can be especially handy for synth players and DJs.
As you might expect from a pedal in this price range, the FC7 is made of plastic. This doesn't mean it's flimsy, though. The hard plastic used for the exterior is thick and resists cracking, and the connection plate, spring, and other interior components are made of high-quality materials that are built to last. The only complaint most players have about the design is that the top of the pedal is textured but not coated, meaning it's more likely your foot will slip off while you're playing.
Despite its small flaws, the FC7 is very playable, and it certainly doesn't feel like a budget model. You can adjust the angle of the pedal for maximum comfort while you're playing, for example. Small details like that let you know you're using a pedal designed by music instrument experts with the musician's experience in mind.
Specifications:
Dimensions: 2.28"H X 4.57"W X 9.84"D
Weight: 2.87 pounds
Connection: ¼" TRS plug
Casing: Plastic
Note: If you plug the volume pedal into your instrument and it seems to work backwards, this doesn't mean the pedal is broken. It simply means that the keyboard's adapter reversed the polarity. Unplug the pedal, then unplug your keyboard's adapter. When you plug things back in, plug the pedal in first, then turn your instrument on. Things should be working better.