There's no doubt this is a pro-level piece of equipment. It has features you won't find on other options, like adjustable pedal torsion, and it's undeniably well-designed, both in terms of aesthetics and practical use. The question isn't whether it's a good pedal, but whether it's good enough to justify the price, which—at over $200—is the highest on this list.
Let's talk about its good points.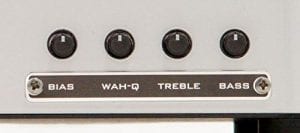 And, like we said, it has a lot.
It's probably the most flexible wah effect on this list. You can make the tone warmer or brighter with the bias control, change the sweep with the Q knob, and use the two-band EQ to tweak the voicing, basically letting you get whatever wah sound you want. There are even more controls inside the pedal, if you really want to dig into the customization.
Xotic has made some innovations to the classic pedal build with the XW-1, too. The pedal is fully-adjustable, not just in terms of resistance but also its range, which can be tweaked by moving the rubber stopper on the treadle. The overall build quality is high, too, with long-lasting pots and a rugged metal housing. The self-lubricating pivot is a nice touch, too, making sure the pedal's operation is always silent and smooth.
There are features on the Xotic Wah that you just can't find on other pedals. It's by far the most flexible option on the market, in our opinion. No matter what wah sound you're looking for, this pedal can give it to you. If you need that kind of customizability, it's worth the two hundred dollar plus price tag. If you just want a simple wah effect, though, you can get it for a lot less elsewhere on this list.
Features:
Controls: Bias, Q, treble, bass
Power: 9V battery or DC adapter (not included)
Input: ¼" stereo (get cables)