The X-ACTO ProX by far outshines its competitors. It has glowing reviews for both longevity of use and performance. This machine is great for use with pencils of all sorts, including colored pencils!
I was particularly impressed with a few of its safety features.
The X-ACTO ProX has built in, anti-skid feet designed to keep the unit in place during use. Great news considering the vibration caused from sharpening can cause a lesser unit to vibrate around the table and become a safety hazard.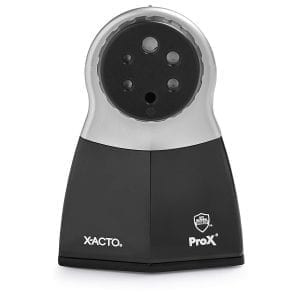 This machine greatly reduces the chance it will vibrate off the table top, break it or the pencil you intended to sharpen. At the very least, a unit that doesn't stay firmly in place will often deliver a sub-par sharpening experience as it can't effectively get the pencil sharp from all angles. Because of the anti-skid feet, that's not a concern here-- one huge bonus with the X-ACTO ProX.
This is a corded model, so you'll have to ensure it has its own plug near the desk or shelf area. I like the corded models because you don't have the added expense of battery replacement, but it does limit where you can place the sharpener. For instance, in a classroom environment, you may not be able to have it on your desk if cord isn't long enough to reach an outlet.
The X-ACTO ProX is designed with longevity in mind. It has helical cutters designed to maintain sharpness. In fact, it lasts up to 33x longer than other sharpeners. It also has auto reset-shutoff to prevent problems with overheating and overuse by those particularly zealous sharpeners.
When the receptacle is taken apart for cleaning or maintenance, it has safety features in place to prevent the sharpener from activating, thus saving fingers!
Now, I do have one concern with this sharpener…
The latest reviews express some concern about the unit wearing out more quickly than before. It could be that these are just a couple of instances in many purchases over the last several months. That's not unlikely, but still worth mentioning. Even with its glowing reviews, there have been a few over the last 6 months stating the unit isn't holding up to its previous high standard.