This X-ACTO high volume commercial-grade electric pencil sharpener is the most expensive sharpener on our list. It comes with several features specifically built for high-volume and high-demand environments.
For starters:
This is the first electric pencil sharpener we've reviewed that has a fan built inside to prevent overheating. Maybe it's just me, but it seems you'd really have to be working this machine hard to need a fan! However, this may be helpful in a large office environment or a testing facility.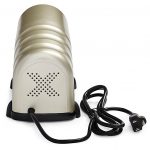 This unit is powered via cord and power source. Again, no expensive batteries to consider. That's particularly important when you're considering such a high-volume and powerful unit. It's also able to sharpen regular and colored pencils with ease. It has a size adjuster on the front to accommodate different size pencils depending on your needs.
This X-ACTO pencil sharpener uses dual helical blades to maintain sharpness and longevity of use. Especially important for offices that demand a high-volume of pencil sharpening. It also has what they call PencilSaver technology. This is essentially a sensor inside the sharpener that eliminates over-sharpening or pencil waste.
The most unique feature of this particular unit is the built-in cooling fan to prevent damage via overheating during high-volume use.
All in all, this is a great commercial grade pencil sharpener. The additional cost up front is definitely going to be worth it if you have a high-demand atmosphere!