Wusthof and Chef's Choice collaborated to create the Wusthof PEtec Electric Sharpener. It's designed to maintain the unique edge angle of Wusthof's Precision Edge Technology (PEtec) blades.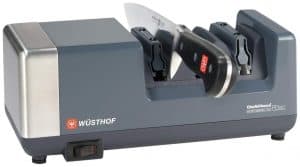 Nonetheless…
The sharpener performs superbly on many other brands as well.
Stage one uses a diamond abrasive wheel to sharpen dull knives and create a new edge on the blade. Stage two's finer grit diamond wheel refines the edge and hones the blade. Stage three uses an advanced stropping material to polish the knife blade.
Features
Weight: 4.6 pounds
Dimensions: 10" x 4.25 "x 4.25"
Abrasive: 100% diamond
Made in the USA