While not a huge name in the industry, the Wosports finder is not to be overlooked.
It features quite the precise measurement, with a 1-yard error margin and a maximum distance of 650 yards. It's not the farthest reaching device, but it will definitely do its job, even on 5 par courses.
In terms of build, the materials are not the best possible out there, but if you take good care of it you might use it for years to come.
What we do love about construction…
...is the ergonomic surfaces. They're made out of high-quality rubber and you'll surely have an easier time keeping it in your hand - so it's good for the shakers out there as well.
Something else we'd like to praise…
...is the extra features. You get a huge array of helpful technologies, like slope mode, range and angle adjustment, speed controls, and the classic flag lock-in system. From what we've seen, most of them work spot on, just as advertised.
Sounds like a pretty good rangefinder?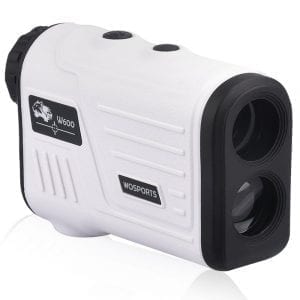 It is! Even more so, you get really good optics, for an "HD" golfing experience. To top it all, you also get a tripod in the pack - so you can just set the finder on the ground and make sure unsteady hands don't mess with the measurements.
"Come on, it can't be perfect…"
And it isn't, so let's get into the bad stuff.
The first problem you'll notice is the battery cap - it's really loose. While that may not necessarily be a problem, it's something you might want to look out for.
Just as you hit the course, the device will amaze you. But you'll slowly notice the issues - the product has crazy battery consumption. After 9 holes, we were one-quarter of a battery down.
Again, could just be the crappy factory battery.
The big problems start when you look…
...into operation. The Wosports boasts 5 operation settings, and if you don't read the (quite cumbersome) user manual properly, you're not bound for accurate measurements.
Even more so,
The hardware inside is not high-quality. As a result, the slightest exposure to high temperatures or moisture can mean a broken product (and that situation is not covered by their limited warranty), and the internet is full of discontent customers that got a few hundred bucks worth of paperweight after a rainy day.
Surely Wosports must counterbalance these cases somehow, right?
Nope, they literally didn't help at all, the customer service is hard to get to, and not helpful. Turns out it's not a perfect finder after all. But, if it looks perfect to you, definitely check this review out.
Features
Laser Rangefinder
Slope Mode
Pin-sensor
1 yard error margin
5-650 yards range