The WX065 is a great sawhorse for DIY lovers. It offers multiple features at a very low price to help increase the productivity of your work.
For starters, this pair of durable sawhorses weighs only 16 lbs. but is designed to support up to 1,000 lbs.
Don't get too happy though:
Our extensive research showed us that 1000 lbs. is, in reality, a bit too much weight for the WX065 to hold, although it seemed to work fine for smaller plywood sheets. This one of the reasons we prefer the WORX WX051 model over this one.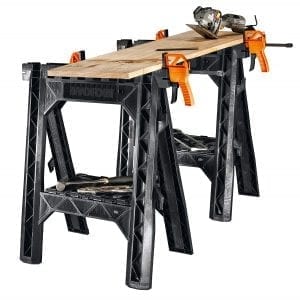 On the bright side…
The sawhorse is made of lightweight thermoplastic polymer material, which makes it super easy to carry.
WORX also give you two detachable bar clamps with this sawhorse that enable you to place your objects vertically or horizontally according to your project needs. We find this feature really helpful because it increases the number of ways you can use this product.
This sawhorse also features a built-in shelf at the lower compartment to store your tools, as well as hooks on the side to keep your wires organized. This seemingly tiny, yet useful feature definitely increases the value of this product.
Then again…
The WX065 has a maximum clamping width of 18 inches and folding depth of 2.5 inches. However, we found a lot of customers complaining about how the weight of the clamps can sometimes tip over the table. We have to admit, this can be pretty dangerous and annoying.
Our research shows that the sawhorse has quite a number of limitations, and since it is not as good as some models from top-of-the-line brands, we feel it's a decent enough buy for a DIY enthusiast. It might not be the best option for professionals.
Features:
Two durable sawhorses
Thermoplastic polymer material
Supports weight of up to 1000 lbs.
2 detachable bar clamps
Built-in shelf and cord hooks
Foldable sawhorse offers convenient storage