As its name suggests, Wolverine is a footwear brand boasting sturdy products that can withstand a lot of damage. This is all thanks to the company's many patented technologies for improving toughness and water resistance. Apart from all that, Wolverine work boots feature soles and footbeds that give support to your arches and add to the comfort. Their Steel Toe Work Shoe is among their best products.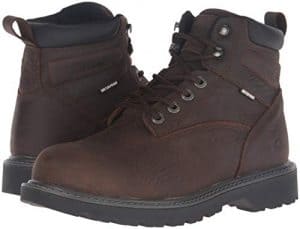 Made from full grain leather, the uppers of these work boots keep water out, no matter the circumstances in which you wear them. The toe part is reinforced with steel, so you don't have to worry about injuring your feet while on the job. And thanks to the rubber outsoles that provide improved traction, you'll avoid slipping on wet surfaces.
But wait:
That's not everything these Steel Toe Work Shoes can offer. Their interior is lined with mesh material, the purpose of which is to wick moisture away from your feet, keeping your skin dry at all times. The synthetic sole and cushioned footbed give your arches enough support, at the same time making sure you don't get uncomfortable while wearing your shoes. In addition, you can remove and wash the footbed whenever your boots are in need of cleaning.
However:
These shoes aren't perfect. Customers complain that the sizing chart isn't helpful enough, since the shoes turn out to be too narrow for some. Also, many report that the rubber outsole, although it provides plenty of traction, wears out too quickly for such sturdy work boots.
Features
Full grain leather upper
Mesh lining
Synthetic sole
Rubber outsole
Steel toe reinforcement
Removable cushioned footbed