One for the more competitive, this Winmau dart board is constructed with super dense sisal fibers and is marketed as a professional level dart board.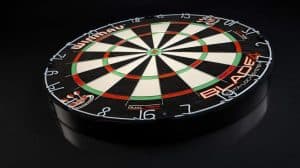 Featuring the highest-grade bristle fiber type, Kenyan sisal, this dart board is designed to last long and maximize scoring.
Bounce outs can be the most frustrating part of darts, but the wiring along the outskirts of each scoring sector are triangular in shape, increasing the chance of the dart embedding into the target areas.
The first thing we noticed after taking this one out of the packaging was the lack of staples holding the wiring down. The benefits of this mean more board area to score, and less chance of bounce outs.
We found the board's construction to be very solid, with very durable sisal fibers, which seal itself well when removing a dart. We also found the board to hold weak shots, and even work with soft tip darts.
Having said that, this is best combined with steel tip darts for maximum game efficiency. The darts tend to stick in well, and the board heals itself quickly, giving us great assurance of a durable and long-lasting dart board.
Specifications
Bristle dart board with Kenyan sisal fibers
8 x 17.8 x 1.5 inches
10 pounds
Professional standard