Did you know? The Wilson Evolution is THE most popular high school basketball in the USA!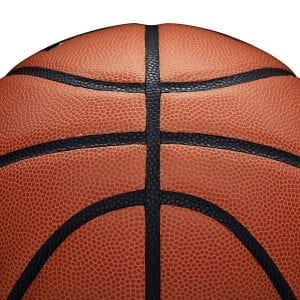 And for good reason, too.
These indoor game balls offer brilliant quality at an incredibly reasonable price!
Let's dive into the details to see why this basketball is our absolute FAVORITE:
For starters, this basketball offers players top-notch handling. Why? Simply because it has a better grip than most other balls.
The ball is built with a microfiber composite leather cover that enhances performance and patented Aqua-Grip laid-in channels that offer an overall great experience and grip/handling of the ball.
Do remember, it does require full inflation to perform its best!
But, here's what came as a pleasant surprise:
Our reviews showed that with the repeated use of this basketball over time, the grip got even better! How cool is that?
Now, the Wilson Evolution is built specifically for use indoors. Like in a gym or a training court. If you plan on playing outdoors, don't even think about buying this one. You'll only be throwing away your money!
For indoor play, though, this is one of the best game balls you could get your hands on!
More cool stuff:
We also found this ball features a Cushion Core Carcass that combines low-density sponge rubber and ultra-durable butyl rubber. What's that, you ask? The secret ingredient that gives this ball a soft, superior feel compared to others!
The only downside we came across was that because this ball has such a soft cover, it might not be as durable as most other basketballs, especially those made of genuine leather.
Features:
NCAA/NFHS-approved
Microfiber composite leather cover
Thousands of micro-pebble touchpoints
Patented Aqua-Grip laid-in channels
Moisture-wicking material
Cushion Core Carcass for a soft feel