An aesthetic design, a lot of features and some bad rep in parts of the radio amateur world, this heavy police scanner with complex software may still be a good choice for some.
Here's why:
A digital and trunked scanner, the Whistler WS1065 features an advanced memory system, allocating space efficiently and based on needs. It has a weather alert system with the Skywarn Storm Spotter function and the software is very well built, with a lot of menus, quick keys, and buttons for you to play with.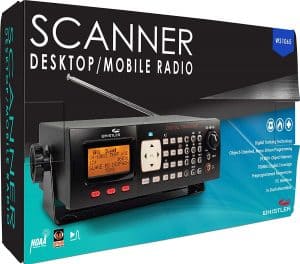 We really have to praise its Menu Driven programming, which is basically a system designed for noobs. Whenever you press a button on this Whistler device, a small block of text with a snippet of helpful information will appear on the screen, telling you what that function is, or what that button does.
Other than that helpful feature, we like dynamic memory allocation structure, the weather alert system, and the fact the digital build of the scanner allows for qualitative sound when listening to a transmission.
On the downside, we have to mention the WS1065 is known to have receiver issues. Many of the said components fail often, leaving the scanner in need of a repair.
However, the people we've interviewed didn't have any problems with that, none of them reported a failure in any instance.
But the problem became apparent when we discussed this device with a few experts.
Their stance was against this police scanner, since some of them had problems with the device themselves, or knew someone who did. They even provided an explanation as to why the receiver is predisposed to a risk of failure, but I'm lacking a few degrees to be able to explain that to you.
Features:
Digital & Trunked.
Advanced Memory System.
Weather alert system.
Desktop Design.
A lot of menus and quick keys