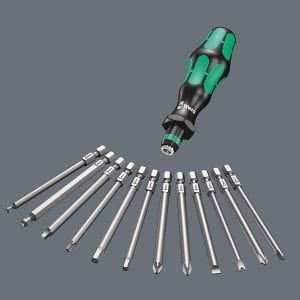 The Wera Kraftform Kompakt is a German engineered and made screwdriver set that comes with 33 different pieces. These include 32, 3½ -inch bits that encompass six hexagonal bore-hole bits, three Phillips bits, three spanner bits, three Torx bits and three tri-wing bits. The pouch includes a bit holding set as well as long bits that can be interchanged easily. The bit holder comes with a quick-release feature that makes for both easy and fast one-handed bit removal and insertion.
All the handles are designed ergonomically, and we loved how they fit nicely in your hands while offering high torque transfer. If you purchase this set, you will enjoy Kraftform's limited lifetime warranty. The kit weighs only 1.6 pounds.
When the Wera Kraftform Kompakt arrives in the appealing, compact, and well-padded pouch that holds everything tightly in place, you'll recognize the attention to detail immediately. The quality of each tool is impossible to top.
Here is the truth:
The bits are precisely made and of great quality – we didn't notice any wear and tear even under heavy use. However, they will rust if left in a wet environment.
The set does not feature as many flat-head screws as many people would expect, but you will find extra PZ, Hex, and Torx screws. This is common in sets manufactured in the EU. The whole pouch is only as big as the palm of your hand.
No wonder…
This set is perfect for engaging small screws like those found on electronics and toys.
Features
Includes Kraftform bit holding screwdriver set with 32, 3 ½-inch long bits,
Casing for easy transport and storage
Kraftform handle and exchangeable shaft system allows for quick blade changes without special equipment
Comes with the Rapidaptor™ bit holder that features a quick-release mechanism for fast, one-handed bit changes
Ergonomically designed Kraftform handle offers quick and effortless operation
Limited Lifetime Warranty
Manufactured in Germany