If you are looking for a more permanent fixture and solution, this two in one option from WEN could be the sander you are looking for.
The 6515 is a sturdy and solid sander solution, with a belt sander and sanding disc option available. While not a good solution for those looking to sand floors or decks, if you need a belt sander and disc sander in your workshop, you can't go past the WEN two in one solution.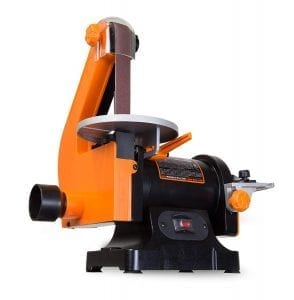 The base is a sturdy cast iron, which means it doesn't move too much with operation and remains steady. We particularly liked the two separate dust ports, allowing you to have more efficient vacuuming efficiency.
The sander comes with a miter gauge, 80 grit sanding disc, and 100 grit sanding belt. You can also bevel both the disc and belt tables, allowing you to angle your stock when sanding away.
In testing we found this sander to be sufficient for most wood sanding needs, but for those looking to sharpen your knives, this isn't the right sander for you.
This sander is perfect for someone after a stationary sanding solution, conducting light woodwork. If you are looking for something more heavy duty, something more industrial is what you are after.
Check out the user manual.
Specifications Sheet
16 pounds
2.3 amp motor
14.5 x 8.8 x 15.8 inch
Sturdy cast iron base
Disc sander and belt sander in one
Two vacuum ports
Miter gauge included