Looking for more than just a belt sander?
This option from WEN is a 2-in1 belt and disc sander. This sander is a sturdily built machine, made from cast iron. This isn't just for that solid feel, it's integral in removing heavy vibrations.
Like most modern belt sanders, this dual sander features an easy release level for changes to sandpaper grit. This is a more heavy-duty belt sander than your everyday handheld machine.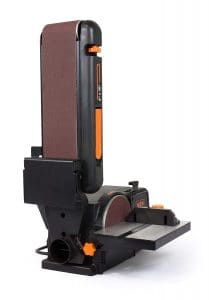 This is more suited for your workshop. Attach it to a workbench and have two different sanding options out of one machine. The sander can plug into a dust collector, meaning easy cleaning and reduced mess.
The disc sander comes with a spacious table space, along with a miter gauge, which is removable if you need to take advantage of the whole space.
Safety is also key with the belt sander, with an extended blade guard meaning protection from foreign objects getting trapped in the belt.
While the WEN 2-in-1 is a more heavy duty sander option and more for your budding workstation, it won't handle heavier loads. In testing, we found the sander to lose power after we introduced it to some more intensive workloads, that we would expect from an industrial sander.
Still, a fantastic option for those who are space conscious and need to do some small bits and pieces and require a more solid solution.
The user manual is available from the WEN website.
Specification Sheet
Heavy-duty cast iron base
Two in one! Belt sander and disc sander!
Plugs into a dust collector
Safety features and belt guard.
39.1 pounds
22 x 11 x 12.5 inches
Two Year Warranty