Weber is one of those rare brands almost everyone has heard of as they've been producing grills since the 50s. While the Weber Spirit II E-210 isn't a traditional charcoal grill, it's your best option if you're looking for a medium-sized grill for under $500 bucks.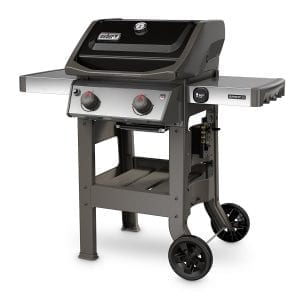 The Spirit II E-210 is a gas grill with a simple, but very modern design. The hood has a more streamlined appearance compared to older models. Your propane tank sits on the outside, so you'll have a little room for storage underneath to go along with the shelves on each side. The left shelf folds down while the right has tool hooks and gives you access to iGrill 3 if you want to give your grill a brain.
Accessories aside, the cart is sturdy and well-built except for in one area. The wheels are not the best but should hold up well due to their durable plastic nature. There are only wheels on one side however and no casters at all so it may be tough to move considering it tips the scales at around 100 pounds. The handle is sturdy, and there is a handy built-in thermometer in the middle of the lid as well.
When it comes to grilling, the Weber Spirit II won't let you down. It uses something called the GS4 grilling system which consists of four components. It's the grease management system, flavorizer bars, infinity ignition system and the burners. The "GS4" moniker is marketing slang, but the components themselves are top-notch.
The ignition performs as advertised while flavorizer bars keep the tubes clear from grease while adding a smoky flavor to your meat. This particular model has two stainless steel burners rated at 26,500 BTU per hour with a stainless steel heat deflector. The grease catcher is nothing to write home about, but it is very easy to use.
What about iGrill?
The iGrill 3 is a high-tech thermometer and an add-on accessory for this grill and a few others from Weber. The module attaches to the grill and uses a series of heat resistant probes to let you know when your meat has reached its optimum temperature.
You'll have to download a mobile app, but you will never have to deal with under or overcooked food again. While not included, the Weber iGrill 3 is well worth a look and reasonably priced for what it can do.
When you're ready to throw some food on the grill, you'll have an ample amount of space to work with. The Spirit has 360 square inches of cooking area on porcelain-enameled cast iron grates that are reversible. That's great if you want to cook smaller foods or just leave large sear marks on your steaks. There's also a 90 square inch warming rack up top to boot.
Weber's Spirit II E-210 grill comes with 10 year warranty to go along with a regulator and hose. We think the user manual is better than most, but you will want to set some time aside to put this one together. You'll also want to pick up a cover, even if it sits under a deck or in the garage. There is a natural gas variant available, and you can scoop this one up in four different colors with Black, Ivory, Red, and Sapphire.
Features
360 square inches primary cooking area
Porcelain-enameled grates
Warming rack
10 year warranty
Infinity Ignition
GS4 gas system