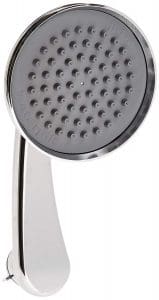 Waterpik's RPB-173 features the advanced OptiFLOW technology that offers a powerful shower experience even at low water pressures. The 6-inch round shower head comes with an adjustable designer arm that positions water flow directly overhead or at any desired angle easily.
Waterpik has been in the industry for a long time and has tried to cope with all sorts of new technologies to gain an edge over its competitors. The RPB-173 gives good performance compared to its price. It also has a nice chrome finish and gives a water output of 2.5 gallons per minute.
It is also compatible with most external shower arms.
The unit also features a flow restrictor but during testing we found that after the removal of the flow restrictor, the water hurled down so quickly that it actually worsened the shower experience.
Features:
Advanced OptiFLOW technology for a high-pressure, full-body spray
Adjustable designer arm positions water flow directly overhead or at an angle
Creates a gentle drenching rainfall experience with full body spray coverage
6-Inch round shower head
Lifetime warranty