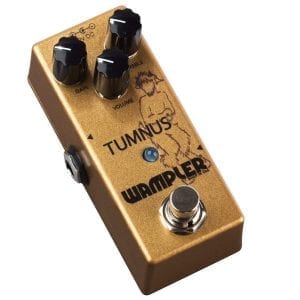 Wampler is too large a company to really be considered a boutique pedal manufacturer but in terms of quality that's what you can expect from the Tumnus. These pedals are still hand-built using the same overdrive circuitry that built their reputation. The only difference is they've put the famous Klon Centaur overdrive in a remarkably tiny pedal.
You only have to listen to the Tumnus for a few seconds to know why people love the effect. It is the ultimate in transparent overdrive, giving your sound some extra grit without losing tone or definition. The clean boost tone is great too. It does use a buffered rather than a true bypass. A lot of players like the effect on their sound, but it's something to keep in mind.
The Tumnus isn't cheap, though it's definitely more affordable than the boutique pedals it competes with. If you're looking for a versatile transparent overdrive, it's worth the extra expense.
Features:
Controls: Gain, treble, volume
Dimensions: 7" X 4" X 7"
Weight: 7 ounces
Power: 9V AC adapter (not included)