The Super Taper II clipper is a professional grade clipper with a minimal design mainly focused on performance and durability. You'll notice this the first time it arrives in a see-through plastic casing without a storage case and with only the necessary accessories. Including eight attachment comb cutting guides that range between 1/8" and 1", a brush, lubricating oil, a red blade guard, a manual and an 8-foot chemical resistant cord.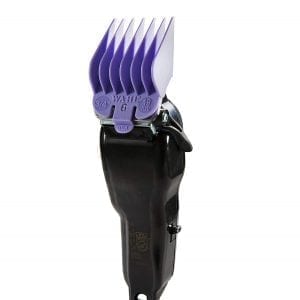 The clipper is powered by a v5000 electromagnetic motor which delivers enough power to the blades to smoothly to cut the toughest hair while making very little noise.
They perform well as a beard trimmer and even better as a hair cutter. The combs are color coded which makes it really easy to pick the right size. Snapping them on and off is also a piece of cake.
The switch is placed conveniently for easy on/off flicks.
Now:
If you're concerned about weight, we'd say this pair of clippers is medium weight; not too heavy, and not too light.
Features
V5000 electromagnetic motor
An adjustable taper lever
Color-coded combs for easy length settings
Eight attachment comb cutting guides, a brush, lubricating oil, a red blade guard, instructions, and an 8-foot cord
One of the issues with this clipper is the taper lever does not look as sturdy and durable as it should if the machine is to be put under a lot of use, but this seems like a minor problem. The machine also gets warm by the time you are done with a long haircut but not so warm that you cannot use.