Wahl's 5-star Balding clipper is a powerful grooming machine that fits perfectly in the hand and works smoothly to achieve clean cuts that barbers and stylists often look out for. The packaging includes two combs, three trimming attachments, a hair clipper, charging base, a cleaning brush, oil, instructions, an 8-foot long charging cord, and a red blade guard.
Even though it's made of plastic, the 5-Star is still sturdy and compact with a visually appealing design. We found the smooth steel base and rounded cutting attachments very useful for maintaining a smooth cut and, overall, the machine is quieter than most.
The powerful electromagnetic motor installed in Wahl's 5-Star clipper packs a lot of power and stays cool with absolutely no snagging or jamming even after running consistently for 45 minutes.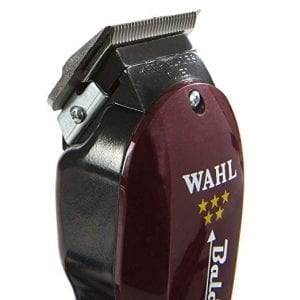 Here's the deal:
They can cut all hair types, though it is a little difficult for facial hair due to the rather large blade sizes.
Some of the notable features include:
Features
The V5000+ electromagnetic motor
German-milled titanium cutting blades with a self-sharpening design
Operates at 120 volts/60 hertz
Weighs only a pound
The professional, German-milled titanium blades do not come pre-adjusted; therefore, if you run your finger along the edge, you might feel the top blade sticking out. Some users have reported cuts due to this.
If this happens...
To properly adjust them, there are two adjustment screws on the machine you can use to move the stationary bottom blade upwards. Your skin should never touch the upper moving blade. If you are still slicing your scalp, ensure you are holding this machine at the right angle.