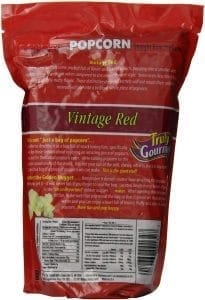 Finding a good brand of popcorn is like finding a needle in a haystack, especially when you've eaten nothing but Redenbacher and Pop Secret for years. Wabash Valley Farms comes in high on our list as they have quality kernels and cover every flavor under the sun.
Do you want to try vintage red popcorn? You might be surprised to find out it actually pops white but won't be disappointed by its flavor. The company has this particular kernel available in a slew of different flavors with Sweet Baby Blue, Tender & White, Vintage Red, Purple, Big & Yellow, Extra Large Mushroom, Hulless White, and Hulless White and Tender & White.
That's a huge plus, but not the only one as they also sell sample packs which are ideal when you're not sure what you like. The regular bags clock in at 2 pounds and will pop around eight batches of fluffy goodness. Multipacks are available are also available, and you can choose between 12 or 18-pound bags with certain flavors as well.
Features
Farm grown & chemical free
Non-GMO