Vornado may be fairly new on the scene compared to brands like Lasko and Honeywell, but they have made their presence felt in a short amount of time.
That's due in part to fans like the Versa-Flow NGT33DC, a powerful machine with some interesting features.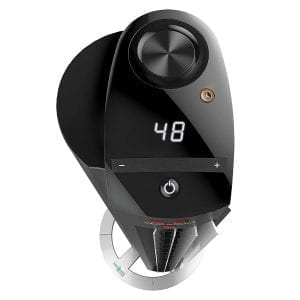 As you can see, the Vornado NGT33DC doesn't look like a regular tower fan although it's not as groundbreaking as the Dyson.
It's mainly plastic like the rest of the pack, but well-made with vents running top to bottom. No space is wasted with this efficient design, and we like the fact the polarized power cord is longer than average at 7-feet.
Professor X would be proud of the stand keeping this fan upright. The 11-inch base keeps the 32-inch fan stable, and it tips the scales at around 7.5 pounds.
Inside that chassis, you'll find a brushless DC motor and a series of 4.13-inch blades. The motor is energy efficient and capable of sending air up to 90-feet across the room.
That's good, as there's one feature you won't find on the NGT33DC…
Do You Need Oscillation?
While oscillation is a feature found on 90% of tower fans, the company didn't need it for this one. When combined with the motor and the adjustable vanes, their Versa-Flow system eliminates the need for rotation.
That saves on wear and tear, although that's one thing you won't have to fear with this particular model..
It has a 10-year guarantee!
In regards to the tech specs, the fan is rated at 440 CFM at its highest speed and 100 CFM on low. It's quiet either way as the company claims it only produces 55 dBA on high and 30 on its lowest setting.
You will hear it on full power as witnessed in the video below, but it is quieter than other models of this size and speed.
The Vornado NGT33DC has a control system that allows you to finely tune the speed rate from 0 – 99. Granted, you won't notice a huge difference in small increments, but it's a nice touch nonetheless.
On that note, touch is how you'll control this unit unless you use the remote.
The controls on the machine are sparse but gets the job done while the remote feels a bit cheap. You can find out a bit more about how this one works through the user manual.
You'll find a standard timer on this tower fan which runs from 1 – 12  hours with an auto-off feature. It's not exactly a dust magnet, but when it does get dirty the grill is easy to remove and clean.
Overall it's an excellent fan with only a few minor drawbacks based on our research and hundreds of user reviews. It's also available in a 42-inch model if you're looking for something larger.
Features
V-Flow technology
99-speed settings
Brushless motor
1 – 12-hour timer