The Vornado MVH is the smallest space heater we included in this review, weighing only 3.76 pounds and measuring 9.2 x 10.4 x 10.6 inches. It's fitted with a thermostat for controlling the temperature settings in the form of a dial knob.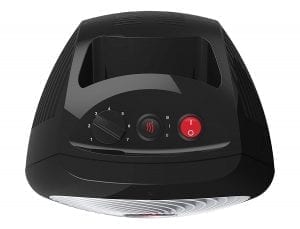 It has three heat settings for better temperature adjustments. We found the patented Vortex heat circulation system to work perfectly in dissipating a constant stream of comfortable heat across the room.
For safety, it's fitted with a tip-over switch, which automatically shuts down power should the machine be tipped over. However, it does not offer an auto-off feature should the unit become overheated. Though we never saw our unit overheat, this is still a noteworthy point.
When testing the Vornado MVH, we established it could heat a medium sized, insulated room quite comfortably.
It's also very quiet.
We only noticed a quiet buzz from the fan when it's on and an occasional click of the thermostat.
Features
Vortex® technology circulates warm air more evenly
Thermostatic dial knob for easy temperature control
Three heat settings
Tip-over automatic off switch for worry-free use
Certified, tested for safety, and warrantied for use in the U.S. only