The humidifier is famous for its "vortex action" circulation system and its small build, so it doesn't take up too much space.
Because of its small size, this humidifier is ideal for almost any household. Users love the fact that it's not bulky and that it can be moved around with ease.
What makes it effective?
The Vornado Evap40 uses its "vortex action" to circulate the humidified air around. Because of this signature system from Vornado, the whole area can be humidified equally.
The unit's water tank can take in four gallons of water, and it will run for 24 hours with ease. You can control the level of humidity via the humidistat knob.
Also, you have three speed options – high, medium and low. Several users told us the high speed is the best solution for larger rooms. So, if you have a large area to humidify, be aware low or medium speed won't get the job done. However, the low speed is ideal for night-time use. If you plan on using the Vornado Evap40 in your sleeping area, we suggest you go with the low-speed option. It's enough for smaller rooms and it doesn't produce a lot of noise.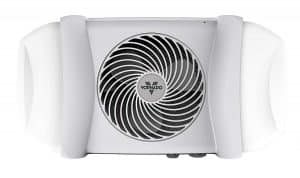 Anything else?
This humidifier can cover up to 1,000 square feet. It's easy to clean, as most users pointed out, and the Airlock water tanks are easy to refill. When it comes to handling, there are no issues. None of the users we contacted complained about the handling of the Vornado Evap40. It's long-lasting, and the manufacturer offers a 5-year warranty. More information here.
Anything bad?
To be totally honest, this humidifier doesn't have the best design. It's not awful or anything like that, but the manufacturer could have done a much better job – that's for sure.
Many of the users we contacted told us the same thing. Something along the lines of "no, it's not ugly, but it's definitely not the prettiest of sights".
Kind of a bummer…
So, if you want your humidifier to be a beautiful addition to your household, this unit might not be the best solution. We're just pointing it out, mind you. You'll make the final choice. After all, this is strictly subjective, but so many users have told us the design could have been much better.
But there are bigger issues here.
The unit tends to be noisy, especially at high speed. On the other hand, when it's in low speed – it can't humidify the room enough. To make the best of it, you need to set it to high speed. The low speed is only good for smaller rooms.
Furthermore, the wicks tend to wear off very quickly. The unit works with two wicks and they need to be replaced once a month, as many users pointed out.
For many people, this is too much and they don't want to be bugged so often. This is probably the biggest drawback of the Vornado Evap40.
And finally, it only covers up to 1,000 square feet, as we mentioned earlier. This can't qualify as a flaw, because that's how the humidifier was constructed – but it's good to emphasize. If you have a larger area you want to be humidified, this won't cover you because of capacity issues.
FEATURES
10.5 x 19.5 x 13.5 inches; 9 pounds
Vortex Action circulation
covers up to 1,000 square feet
a 4-gallon water tank
continuous humidification up to 24 hours
adjustable humidistat
2 wicks
3 speeds