The Vornado AVH2 Vortex Heater is a small yet mighty machine installed with all the features necessary in a quality space heater. It's one of the lightest heaters in this review, weighing only 6 pounds and measuring 11.9 x 11.8 x 9.5 inches.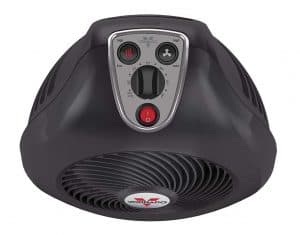 It comes with an automatic climate control feature that we found to work wonderfully in maintaining the set temperature accurately. All you need to do is set your optimal heat level and the AVH2 will raise the room's temperature, then maintain it there without the temperatures having to drop first. 
Even after long hours of operation, the exterior of the AVH2 remained cool. We felt comfortable using it around children and pets.
It was easy to use thanks to its climate control feature and well-positioned controls. We noticed it works best when the fan is set to automatic and the heat setting to low after the room has become warm enough.
What's that smell?
We also noticed some burning plastic odor during the first use, but this disappears with a few hours of tempering.
Features
Features automatic vortex heat® technology
Climate control features
Maximum output of 5118 BTU/hr.
Automatic tip-over protection
Power On/Off indicator lights
Thermostat for setting desired heat levels
Two fan settings: auto or continuous.