This is another great cue if you're looking for something pretty standard that won't break the banks.
We also loved the style and look of this cue.
The faux leather wrap looks nice, and the raven graphic is also very sleek. We would have prefered to have seen inlays in the cue, however, in addition to the graphics.
The specs are normal.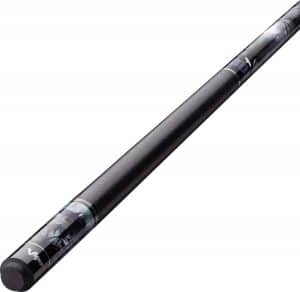 This is another 58-inch 2-piece pool cue. It has a stainless steel joint, rubber pumper, and 13 mm tip.
It's made of hard Canadian maple and comes in standard weights. However, this cue also has an adjustable weight system which means you'll be able to get a more specific feel out of the pool cue.
Customization is almost always a good thing, since it will allow you more control in how your cue shoots.
We were not able to identify the tip that comes on this cue.
There have been a couple instances of these cues arriving warped, which is, of course, a huge problem.
But, there is good news.
Viper cues have a lifetime warranty against manufacturer defects. So if you do chose this cue and it arrives damaged, you can get a new one without any issue.
Features
Faux leather wrap
Stainless steel joint
Raven graphic decal