Although they're not among the widely known footwear brands, Vionic products come with really high ratings. They're praised for their professionally made orthotics and the amount of arch support these give. We've found them to be an excellent choice for people with high arches, and what follows is everything we liked and didn't like about them.
Made from full grain leather, the uppers of these shoes are durable and completely water-resistant. Inside we found podiatrist-designed orthotics, just as advertised. These are very well-made, providing both cushioning and all the support your feet might need. But to make things even better, the shoes also come with molded EVA midsoles, which absorb the shock every time the foot hits the ground.
Now get this: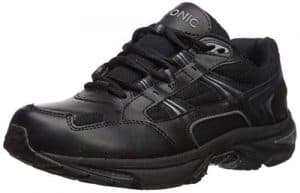 If you're worried about stability, there's really no need, at least not with these heel counters. Made from thermoplastic, they're at the same time firm and flexible – perfectly capable of keeping your heel in place. But there are two things we still have to mention about the orthotics of these shoes. They're removable and come with antibacterial tops, which minimizes foot odor and makes cleaning a lot easier.
But wait:
There are also the polyester mesh liners, which add to comfort and help wick moisture away from feet. And when you need to tie them, the Action Lacing System makes your job easier, at least in our experience. Last but not least, the rubber outsoles are sturdy and capable of providing enough grip to keep you from slipping.
Of course, there are some downsides that come with choosing these shoes. We've found that not all customers are satisfied with sizing, as the shoes are a bit too narrow for those with wide feet. They're also not the best choice if you place a lot of importance on weight. All in all, however, we were really impressed with this model and everything it has to offer.
Features
Full grain leather uppers
Removable orthotics with antibacterial top
Molded EVA midsoles
Rubber outsoles
Active Motion System
Action Lacing System
Polyester mesh liner
Thermoplastic heel counter