While a good set of torque wrenches is useful for those who need the best torque wrench for bike repair, we feel the VENZO Bicycle Bike Torque Wrench Allen Key Tool Socket Set Kit is the one to choose.
Design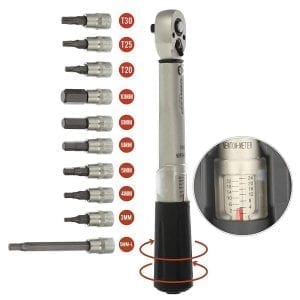 This affordable set is ideal for the avid cyclist. Highly portable, it includes a standard 1/4" torque fix set along with Allen keys 3 / 4 / 5 / 6 / 8 / 10 mm, and the 5mm longer Allen key. The wrench itself is cleverly designed with a handle that turns to the appropriate setting. Fast changes in the keys are done with the quick release button and it all tucks into a handy carrying kit.
Materials
A blend of steel, carbon, and plastic, these are considered higher quality tools and are designed to last.
Accuracy
The wrench can give from two to 24 Nm and is accurate to 4% or better.
Warranty
This set features a one-year warranty from the manufacturer.
Extras
As indicated, this arrives in a handy storage kit with individual slots for the heads and keys.