Looking for a California framing hammer? Vaughan hammers has the solution with this rugged wooden handle hammer. It's another tool that sports the Made in the USA tag, and one you should seriously consider if you want a traditional framing hammer that won't break the bank.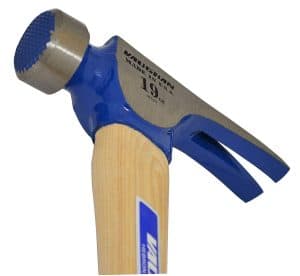 Andrew Jackson would have been proud to own this hammer given its durability and the fine hickory handle. This old hickory handle has a large eye where the handle meets the head which adds to the overall strength of the tool. The design comes from the company's Rig Builders hatchet, and that's not the only thing the designers borrowed for this Vaughan framing hammer.
The head of this hammer is forged from high carbon steel and polished to perfection. The company gave it a triple zone heat treatment and an extra-large striking face. It's modeled after the popular 999 rip hammer and powder coated to prevent rust. This particular model clocks in at 23 ounces and has a heavily milled face although other weights are available.
Just like with the rest of our picks, you won't get a regular warranty with the Vaughan framing hammer, but they do cover their products for repair under regular use. While not a tool for the average Joe or Jane, it's an excellent option for carpentry, framing and other heavy duty work.
Features
23 ounces
Magnetic nail start
Triple wedge eye
Powder coating
Computer designed and balanced