Buying a pedal that costs less than fifty bucks can sometimes be a gamble, even with a relatively simple device like a volume pedal. With this EP-2 from Valeton, though, you not only get a reliable volume pedal but also an expression pedal in the same device, and all of this for an easily affordable price.
Unlike many 2-in-1 volume/expression pedals, there is only a single jack each for the input and output on this pedal. The internal circuitry detects the output source automatically and makes changes accordingly, allowing them to simplify the overall design.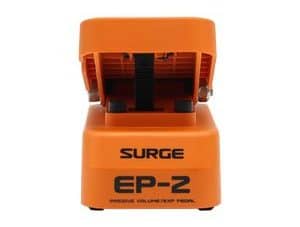 The EP-2 comes from Valeton's Surge series, which are designed to combine volume pedal control with other popular effects. This alone has the potential to save you space on your pedal board, but the EP-2 itself is also very compact, basically giving you two pedals with less of a footprint than you'd normally need for one.
While this is the cheapest guitar/bass volume pedal on this list, it is also the only one of the type that's constructed out of plastic. This does make the pedal much lighter in weight than its metal counterparts but also means it's more susceptible to cracking or breaking. The plastic that's used is hard and durable so this won't be a problem for most users, but if you know you have a particularly heavy foot or tend to be rough on your equipment, you may want to look elsewhere.
You can use this pedal with a lot of different instruments, including familiar choices like guitar and bass but also things like electronic drum sets. The only thing to keep in mind is that it's designed for use with passive equipment, so it won't work with any instrument that uses active pickups. It's also not the best choice for keyboards or synthesizers; the output has a stereo option, but the input is mono.
Specifications:
Dimensions: 5.8"D X 2.6"W X 2.4"H
Weight: 8 ounces
Input: ¼" mono
Outputs: ¼" stereo
Casing: Hard plastic