Perhaps a bit large for hobbyists, the USCutter Vinyl Cutter MH 34in is more suited for small business owners, such as sign makers, graphic designers, window tinting, vinyl application, etc. Great for big jobs (both in size and amount), this "entry level" machine slices through standard vinyl, heat transfer vinyl, paper, craft paper, cardstock, and paint mask.
Check this out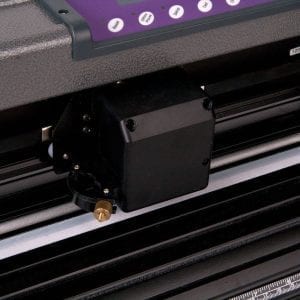 The USCutter Vinyl Cutter MH 34in has a backlit LCD display panel that allows you to enter commands, control speed and pressure, and make adjustments. The machine also comes with three blades ? ? ? (one for use and two replacements), which lasts a long time for some users (more than one year) but only months for others. A few reviewers express desire for better blade depth control.
In terms of operation, the USCutter Vinyl Cutter MH 34in is a bit little loud but cuts cleanly. A couple users say it works well on small, intricate designs, but some disagree. Also, sometimes the machine goes off-track even in the middle of cutting, resulting in wasted vinyl.
Do you feel the need for speed?
With a maximum speed of 48 inches per second, this cutter is fast enough for some but slow for others. We assume for businesses–especially those with a high volume– speed is a concern. Accuracy isn't sacrificed for speed, though.
How's this for multi-tasking?
The USCutter Vinyl Cutter MH 34in has a pen holder that allows you to turn the cutter into a plotter by switching out the knife for a pen?. Many people love this feature, which allows them to plot points as well as draw large patterns.
Note
This model does not contour cut, meaning it doesn't first print an image and then go back and cut around the printed area.
Patience is a virtue ⏳
Set-up was quick and easy to learn for some (one person notes assembling the machine and cutting a set of stickers within 30 minutes) but "rough" for others. Be sure to "sit down and actually read" the instructions as well as watch the manufacturer's videos. One newbie with "zero experience" with a cutter heeded this advice and figured out the machine's operation in less than an hour.
Feedback on the VinylMaster Cut software is mixed; some say it is simple, basic, for beginners, and like something from the 1990s. Nonetheless, nearly everyone praises its vectorizing and tracing of images.
And guess what?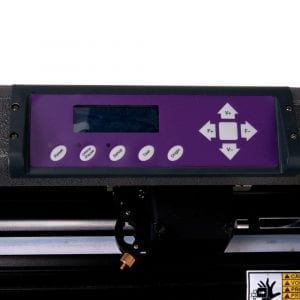 In addition to using VinylMaster Cut software, the cutter can run other popular design software like Sure Cuts Alot, Flexi, SignBlaser and SignCut Productivity Pro.
Although many USCutter Vinyl Cutter MH 34in owners report motherboard issues, most commend the helpful customer service. This cutter comes with free lifetime phone support.
An embarrassment of riches?
Users really like the plentiful supplies (including five 24" x 5' rolls of Greenstar vinyl (black, white, red, green, and yellow), two 12" x 24" sheets of magnetic sign blanks, one 6" x 10-yard roll of TransferRite Ultra Clear 1310G (Grid) Medium Tack Application Transfer Tape, and one 6" x 1-yard roll of TransferRite Ultra 592U Paper Application Tape (High Tack) in this Bundle or Sign Making Kit.
We found only positive reviews of this model's customer service. ??
One final note
This cutter isn't compatible with Mac/Apple computers.
For an informative overview of the USCutter Vinyl Cutter MH 34in, see this video.
Features
Includes machine, floor stand, three blades, pen holder, cover, hobby knife, squeegee, VinylMaster Cut software, five 24" x 5' rolls of Greenstar vinyl (black, white, red, green, and yellow), two 12" x 24" sheets of magnetic sign blanks, one 6" x 10-yard roll of TransferRite Ultra Clear 1310G (Grid) Medium Tack Application Transfer Tape, and one 6" x 1-yard roll of TransferRite Ultra 592U Paper Application Tape (High Tack)
Maximum speed: 48 inches per second
Maximum feed width: 34.2"
Max Cutting Length: 96" (8")
Maximum Cut Width:  30.63"
Minimum cut width: 3"
90-day warranty