Like the USCutter Vinyl Cutter MH 34in, the USCutter 28-inch Vinyl Cutter may be large for hobbyists but it's great for small business owners, such as sign makers, graphic designers, window tinters, vinyl applicators, etc. This "starter" machine slices through standard vinyl, heat transfer vinyl, paper, craft paper, cardstock, and paint mask.
What's not to like?
Users find it a good value that "pays for itself" in the diverse projects it can complete. Many love the machine and declare it a worthwhile investment.
The USCutter 28-inch Vinyl Cutter has a backlit LCD display panel and a ball-bearing dual roller media roller system. The two adjustable pinch-rollers provide flexibility in use over a wide range of materials, including pieces as narrow as only three inches wide.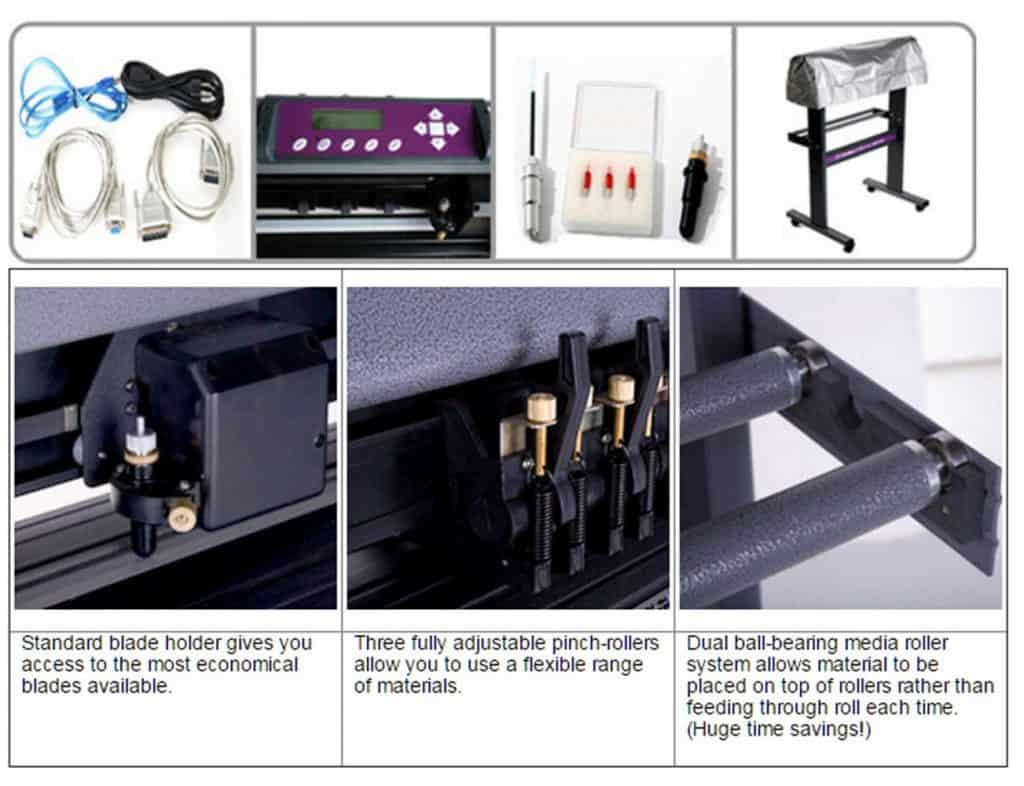 In general
Overall, the USCutter 28-inch Vinyl Cutter is easy to assemble and use. One reviewer describes it as a "very basic plotter." The VinylMaster Cut software garners mixed reviews in terms of user-friendliness. In addition to utilizing VinylMaster Cut software, the cutter can run other popular design software like Sure Cuts Alot, Flexi, SignBlaser and SignCut Productivity Pro.
Good things come to those who wait…
Nonetheless, after reading the instructions, watching YouTube videos, and climbing a learning curve ?, users find the cutter worth the time and effort because it cuts very well. Some people say the cutter is loud while others feel it operates quietly.
Two final notes
The USCutter 28-inch Vinyl Cutter
does not contour cut, meaning it doesn't first print an image and then go back and cut around the printed area.
isn't compatible with Mac/Apple computers.
Most owners rate customer support as very good to excellent. ??
For an informative overview of the USCutter 28-inch Vinyl Cutter, see this video.
Features
Includes machine, floor stand, three blades, cover, hobby knife, squeegee, VinylMaster Cut software, one 12" x 5-yard roll of black GreenStar sign vinyl, one 12" x 5-yard roll of white GreenStar sign vinyl, two 12" x 24" sheets of magnetic sign blanks, one 6" x 10-yard roll of TransferRite Ultra Clear 1310G (Grid) transfer tape, and one 6" x 10-yard roll of TransferRite Ultra 592U High Tack transfer tape
Maximum speed: 39 inches per second
Max Cutting Length: 96" (8")
Minimum cut width: 3"
90-day warranty