What's better than one great travel adapter?
Three great travel adapters!
Sure, you can also buy them separately, but the UPPEL 3 Pack set of travel adapters is pretty amazingly priced, and each adapter comes in a unique color. Which we think earns it some cool points.
Plus, it's just a heck of a lot easier to find a bright green plug in your bag than it is to find a black one.
It also makes it easier to remember to take it out of that wall outlet when it's time to pack up and go home.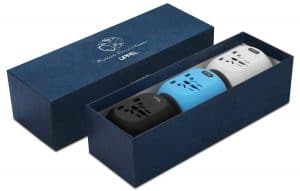 Speaking of cool points, we loved the sleek, modern look to these adapters, especially since they're super streamlined and compact.
And with two USB ports for charging your phone or tablet, the UPPEL travel adapter manages to be nice and light without sacrificing on capability.
The safety features give it another edge, with a spare fuse included in case there's a power surge and the built-in fuse happens to blow out.
Its main flaw?
This one is not your guy for high-powered electronic appliances. It's great for laptops, tablets, cameras, and cellphones, but we would steer clear if you're looking to power anything more heavy-duty than that.
The UPPEL travel adapter comes along with a 30-day money back guarantee, and has a one-year warranty.
Dimensions: 9.8 x 3.5 x 2.7 inches (for the set of three)
Weight: 1.21 pounds (for the set of three)
Features:
Has 2 USB ports in addition to the standard AC outlet
Comes with a spare fuse just in case the built-in one is overloaded by a power surge
Sleek, modern design